Swiss Indoors Basel Betting Odds, Favourites to Win, Tournament History and Past Winners
Tournament Details:
Date: 2024.10.19 - 2024.10.27
Location: Switzerland
Sport: Tennis
Surface: Indoor hard court
Total Prize Money: €2,196,000
Switzerland is also known as the playground of Europe because of its enchanting destinations in the Alps. In the playground of Europe, the premier Tennis event is the Swiss Indoors tennis tournament, played annually and is an important stop on the ATP World Tour.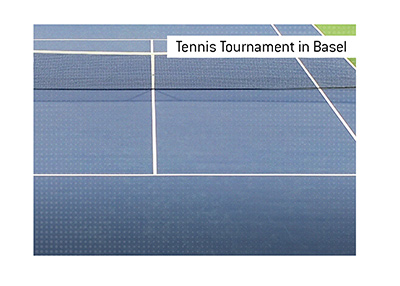 Swiss Indoors Tennis Tournament:
The Swiss Indoors Tennis tournament is part of the ATP World tour 500 Series and has been held annually since 1970. The tournament involves both singles and doubles matches for men.
2023 Winner:
Canadian player Felix Auger-Aliassime won his second consecutive Swiss Indoors Basel championship. He triumphed over Poland's Hubert Hurkacz in straight sets during the finals.
Felix made a last-minute decision to participate using a wildcard entry, a choice that proved to be highly beneficial. This tournament marked a significant positive turn in his performance after a challenging year.
2023 Betting Odds:
This is what the odds looked like leading up to the event.
Source: Bet365
Time Stamp:
October 23rd, 2023 7:59 pm EST
Odds Subject to Change
Hubert Hurkacz +550
Taylor Fritz +550
Andy Murray +750
Alex De Minaur +900
Casper Ruud +1100
Felix Auger Aliassime +1200
Botic Van De Zandschulp +1400
Holger Rune +1400
Ugo Humbert +1400
...
Location:
The tournament is played in Basel, which is the third most populous city in Switzerland. Based on its location, the tournament is also called the Basel Open or Basel Indoors. Interestingly, the all-time great Swiss tennis star, Roger Federer, is also a Basel native.
Courts and Surfaces:
The tournament is played on hard indoor courts. This results in the absence of the effects of wind and sun. Thus, allowing the servers to be more accurate in service while the hardness of the court results in faster game play when compared to clay courts with relatively higher bounce.
History:
While Roger Federer has dominated the tournament, as per expectations, it was Roger Brennwald who came up with the concept of the Basel Open in 1970.
Initially, the tournament was organized among the top players in Switzerland, but it became a Grand Prix Circuit Event in 1977 and retained its status till 1989. Between 1990 and 2008, it remained a part of the ATP World Series and ATP International Series. Since 2009, it has been an important fixture in the ATP 500 World Series.
Past Winners:
The Inaugural Swiss Indoors Tennis tournament was won by the German Tennis player Klaus Berger. Michael Burgener was the first ever Swiss player to win the event.
The Slovakian Tennis Star Ivan Lendl won the tournament twice in back-to-back seasons (1980 and 1981). The Swedish tennis star Stefan Edberg won the Swiss Indoors tennis tournament three times, which was a record at that time. The US tennis stars like Jim Courier, John McEnroe, and Pete Sampras have all reserved places for themselves on the Swiss Indoors' Honour Board.
Most Titles:
In the doubles category, the US duo of Bob Bryan and Mike Bryan have won the competition on most occasions, with four titles in 2002, 2004, 2007, and 2010. Other than them, Tomas Smid from Russia, Daniel Nestor from Canada, and Nenad Zimonjic from Serbia have all won four doubles titles on separate occasions.
While a number of players have won the event, there is one man who has absolutely owned the stage in Basel. And, quite rightly so!
The Basel Native Roger Federer has won the Basel Open tennis tournament on a record ten occasions. He first played in the finals in 2000 and 2001 but lost on both occasions.
However, he followed the two losses with 5 Swiss Indoors Titles in 6 years between 2006 and 2011. The one time when he didn't win the Swiss indoors title was when he was beaten by the relatively younger Novak Djokovic in the 2009 Swiss Indoors Tennis tournament's final.
In 2012 and 2013, Federer was beaten by the Argentinian Juan Martin Del Potro in the finals. However, Federer followed it up with two consecutive titles in 2014 and 2015. By then, Federer had made it to 10 successive Swiss Indoors Finals while winning 7 of those.
In 2016, Federer had to pull out of the event due to an injury. However, he came back again in 2017 to win his 8th Swiss Indoors Title. He added another two titles in the next two years to make it a hat trick of titles.
Recently retired tennis great Roger Federer made it to the finals of all the Swiss Indoors editions since 2006, except in 2016 when he couldn't participate due to an injury.
Out of the 13 finals that he has played in the period, he has won a mind-blowing 10 Swiss Indoors Titles. That is incredible. But, that is home ground. That is where he has been brought up and nurtured.
The Swiss Indoors Basel belongs to no one but Roger Federer.
-
View more
Tennis Tournaments