Terry Bradshaw's 1970 Rookie Campaign Is Difficult To Be Topped
Published on December 4th, 2021 11:16 am EST
Written By:
Dave Manuel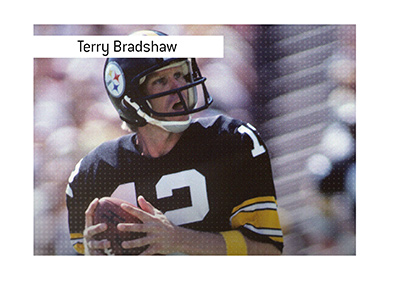 Which NFL great had the worst rookie season ever?
There are quite a few examples of NFL greats who had light usage in their first seasons in the NFL, so their numbers were quite mild.
Terry Bradshaw, however, likely turned in the worst rookie season ever for somebody who would end up being a truly great player (Bradshaw is in the Hall of Fame and won multiple Super Bowls).
-
Terry Bradshaw was drafted #1 overall out of Louisiana Tech in 1970, so expectations for Bradshaw were certainly high.
Bradshaw, as mentioned, would end up developing into a great, great player, as evidenced by his 4 Super Bowl wins, 2 Super Bowl MVP awards and 3 Pro Bowl appearances, to name a few.
Bradshaw also did something that not many players can brag about doing - he played the entirety of his career for one team (Pittsburgh Steelers).
-
Bradshaw split snaps in his rookie year in Pittsburgh, and the results were truly awful.
Bradshaw played 13 games in 1970, of which he started 8.
Bradshaw threw for just 6 touchdown passes in 1970, while putting up an eye-popping 24 interceptions.
In fact, 11% of Bradshaw's TOTAL throws resulted in interceptions, which is a pretty tough mark to top.
Despite starting in 8 games and playing in 13, Bradshaw would complete just 83 passes out of 218 attempts, for just 1,410 yards.
Bradshaw's Quarterback Rating in 1970 was 30.4, which is a truly awful number.
To make matters worse, Bradshaw was also sacked 25 times in 1970.
-
The media had a field day with Bradshaw's struggles in 1970, as they said that he was a dumb country hick that wasn't smart enough to be a NFL quarterback.
Many people would have crumbled under this ridicule and scrutiny, though Bradshaw managed to buckle down and make the necessary adjustments to become a top NFL QB.
His first season in the NFL, however, was truly awful.