A Look at the Flex Scheduling Rules
Published on January 2nd, 2023 1:31 am EST
Written By:
Dave Manuel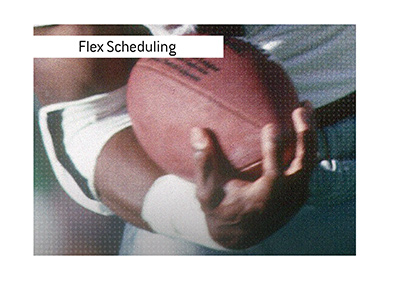 It's Week 18 of the NFL season, and numerous teams are fiercely battling it out for playoff spots.
If you are the NFL and interested in generating as much revenue as possible, which games do you want to have in the coveted Saturday night and Sunday night slots - games involving teams that are battling to make the playoffs, or games involving teams that have already been eliminated?
This is the idea behind flex scheduling - moving games that matter into prime-time slots wherever possible.
-
"Flex scheduling" was first introduced in 2006.
The idea behind flex scheduling is that you substitute a "big" game for a game that doesn't matter as much in the primetime Sunday Night Football spot.
So, if two 7-0 teams are playing on Sunday afternoon, you'd likely want that game in the Sunday Night Football slot.
There are rules, however, that the NFL must follow when it comes to flex scheduling:
1) Flex scheduling can be used every week in Weeks 11-18
2) Flex scheduling can also be used in Weeks 5-10, but only a maximum of two times
3) Only Sunday afternoon games can be moved to the Sunday Night Football spot
4) The game that is swapped out of the SNF spot will be moved to Sunday afternoon
5) Games in Weeks 5-17 can be flexed with 12 days of notice to fans and teams
6) Games in Week 18 can be flexed with only SIX days notice
7) Thursday Night Football and Monday Night Football games can't be moved
Week 18 is its own beast and has its own rules.
Week 18 is the final week of regular season play before the playoffs, and there will obviously be a number of very important games.
There are TWO Saturday games during Week 18, and these spots are reserved for games with playoff implications (as well as the Sunday Night Football game).
If you notice, the NFL will purposefully leave out the start time/day for the Week 18 games, as they want the flexibility to add games to the coveted Saturday and Sunday night slots.
Once the majority of the Week 17 schedule has been completed, the NFL will usually announce the Week 18 Saturday games on Sunday, and the Week 18 Sunday Night Football game the day after.
For instance, in 2022, one of the important Saturday games was a divisional clash between the Jacksonville Jaguars and Tennessee Titans, with the winner clinching the division.
These are obviously games that people want to see, and the NFL wants to put these games in primetime as much as possible.
-
Here is what the NFL has to say about flex scheduling:
"Flexible scheduling ensures quality matchups in all Sunday time slots in those weeks and gives surprise teams a chance to play their way into primetime"
Click this link
(NFL.com) to read more about how the league handles flex scheduling.