LeBron James, Kobe Bryant Top List of High School Players That Went Straight To NBA
Published on September 22nd, 2022 6:51 pm EST
Written By:
Dave Manuel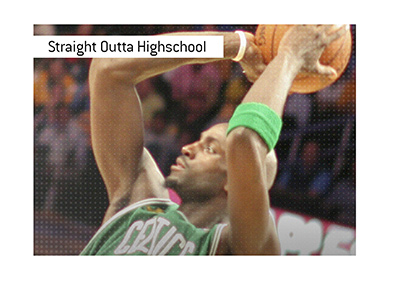 The NBA and NBA Players Association are in the midst of negotiating their next collective bargaining agreement.
One of the elements of the agreement that the two sides are reportedly close to agreeing on - reducing the draft eligible age from 19 to 18, and eliminating the requirement for a draftee to be 1 year removed from high school.
This change would allow players to be drafted straight from high school once again.
-
In 2005, the league and the players union agreed that the minimum age to be draft eligible should be 19.
Prior to that, a total of
41
players elected to skip college (or playing professionally outside of the United States) so that they could be drafted by a NBA team.
-
The 41 players had a mixed amount of success in the NBA.
There were obviously some VERY good players that went straight from high school to the NBA, including:
LeBron James
Kobe Bryant
Kevin Garnett
Dwight Howard
Tracy McGrady
Amar' Stoudemire
Three players skipped high school and went #1 overall in the NBA Draft - Kwame Brown (2001), LeBron James (2003) and Dwight Howard (2004).
Three players that went straight from high school to the NBA won MVP awards over the courses of their careers - Kevin Garnett, Kobe Bryant and LeBron James.
10 of the 41 players ended up making the All-NBA Team or All-Star Team over the course of their careers (Jermaine O'Neal, Tyson Chandler, Amar'e Stoudemire, LeBron James, Dwight Howard, Andrew Bynum, Kobe Bryant, Tracy McGrady, Kevin Garnett, Rashard Lewis).
-
These are obviously the successful cases of playing going straight from high school to the NBA.
There were players that didn't work out (Kwame Brown), players that had decent careers (JR Smith, others) and players that never played in the NBA at all (Ousmane Cisse).
And there were a bunch more that never really made an impact in the league, good or bad.
-
In the end, allowing players to skip college has yielded pretty strong results, as nearly a quarter of the 41 players that entered the NBA straight from high school went on to become All-Stars.
In addition, the NBA is keeping an eye on their business as well - why not let someone like Zion Williamson straight into the NBA, when he can immediately start generating income for the league and its teams?