Mr. Irrelevant The Nickname Given To Last Pick of NFL Draft
Published on June 13th, 2021 1:11 am EST
Written By:
Dave Manuel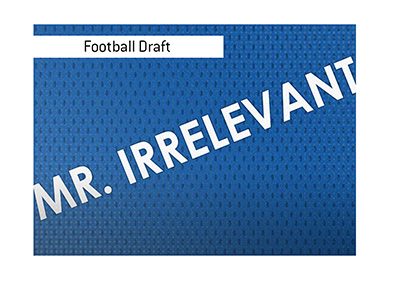 The NFL has a tradition of the last pick of each NFL draft being called "Mr. Irrelevant".
This isn't meant to be a slight - in fact, it is a tradition that goes all the way back to 1976, and players usually wear the title proudly.
-
The tradition of naming "Mr. Irrelevant" was started back in 1976 by former NFL player Paul Salata.
Salata wanted players to have fun with the fact that they were selected dead-last in the NFL Draft, so he started the entire "Mr. Irrelevant" ceremony.
This included announcing the last pick of the draft and then inviting "Mr. Irrelevant" and his family to Newport Beach for a week of Disneyland, golf and other fun.
-
The naming of "Mr. Irrelevant" created a good deal of positive media coverage, and teams wanted to capitalize.
In 1979, the Los Angeles Rams, who had the second to last pick in the draft, decided to pass on their pick in order to make the Pittsburgh Steelers choose first. This would have meant that the Rams would have the last pick of the draft.
The Steelers were wise to this and refused to make their pick as well, passing it back to the Rams.
Eventually, Commissioner Pete Rozelle stepped in and forced the teams to pick. This led to the implementation of the "Salata Rule", which prohibited teams from passing to get to the final pick.
-
Some of the more notable players that have been drafted with the last overall pick include Tyrone McGriff Sr., Jim Finn and Ryan Succop.