Minnesota Vikings Three Point Road Favourites To Defeat Eagles
Published on January 17th, 2018 10:28 pm EST
Written By:
Dave Manuel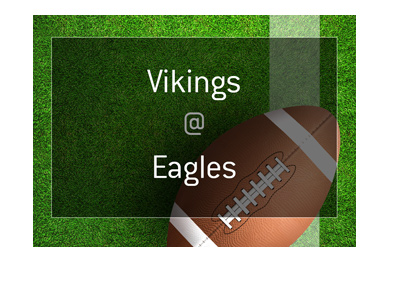 Two surprising teams, the Minnesota Vikings and Philadelphia Eagles, will be squaring off in the NFC Championship game this year.
The game is an unusual one, as both of the team's starting QBs at the start of the season, Sam Bradford and Carson Wentz, will be watching the game from the sidelines. Wentz blew out his ACL earlier in the year, seemingly ending the Eagles' Super Bowl hopes, while Sam Bradford was eventually replaced by the surprising Case Keenum.
That being said, both the Vikings and Eagles still have good teams, and both teams could give the Jags or Patriots an interesting run in the Super Bowl.
-
Once again the Eagles will be underdogs, despite the fact that they are hosting the game. That's ok - the Eagles played that up against the Falcons last week, wearing dog masks after the game. There is no doubt that the Eagles feel disrespected by being home underdogs, and there is no doubt that they will be using this fact to fire themselves up on Sunday.
Here are the current betting odds for Sunday's game between the Eagles and the Vikings:
Source: Bet365
Time Stamp:
January 17th, 2018 3:17 am GMT
Odds Subject to Change
Minnesota Vikings, -3, 1.90
Philadelphia Eagles, +3, 1.90
Over 39 points, 1.90
Under 39 points, 1.90
Money Line
Minnesota Vikings, 1.60
Philadelphia Eagles, 2.45
-
Let's look at the keys to victory for both teams:
Minnesota Vikings
The Vikings need Case Keenum to get into a rhythm with his top receivers, Thielen and Diggs, early on in the game. If he can accomplish this, openings will appear for Murray and McKinnon, and the Vikings might be able to use a multi-faceted attack to confuse the Eagles' defence.
In addition, the Vikings will want to get to Foles early, as he has shown that he can be rattled in the face of intense pressure.
Philadelphia Eagles
The Eagles desperately need Ajayi to have a big game, as this would take the pressure off of Foles and the rest of the offence.
This is easier said than done, however, as the Vikings have one of the top defences in the league.
-
This should be a low-scoring, run-heavy affair, which will likely be in direct contrast to the Patriots/Jaguars game.