Heritage Auctions Sells Mantle Rookie Card for $12.6 Million
Published on August 28th, 2022 1:29 pm EST
Written By:
Dave Manuel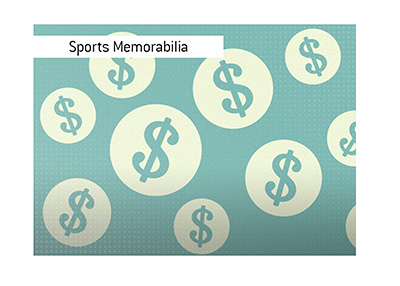 There are an estimated 1,800 or so Mickey Mantle rookie cards (Topps, 1952) that are known to exist.
Of these 1,800 cards, the majority are in poor condition.
Earlier this week, the unicorn of the sports memorabilia world went for sale through Heritage Auctions:
A near-mint Mickey Mantle 1952 Topps rookie card.
The final price?
$12.6 million
(including a buyer's premium), shattering the record for the most amount of money ever paid for a piece of sports memorabilia.
The previous high price? $7.25 million for a T206 Honus Wagner card.
-
Like the T206 Honus Wagner card, the 1952 Mickey Mantle Topps rookie card is very rare for a reason.
Topps messed up the distribution of the 1952 cards, which resulted in an artificial scarcity in the marketplace.
In 1986, a collector named Alan Rosen received a phone call.
A friend told him that he knew a guy who had boxes of unopened 1952 Topps baseball cards in his basement. Would he be interested?
It turns out that the "guy" had inherited a house from his father, and his father had been a truck driver that had delivered for Topps.
The boxes of 1952 Topps cards ended up in the basement, where they sat for decades and decades.
Rosen pulled out a bunch of cash from the bank and visited the house, where he paid $125,000 for all of the cards.
Rosen reportedly pulled "dozens" of Mickey Mantle rookie cards from the packs.
In 1991, one of these cards sold for $50,000 to a man named Anthony Giordano.
Giordano apparently off selling the card for decades, but was finally convinced to do so by his sons.
They sent in the card to get graded and were delighted by the response:
Their card had a rating of 9.5, which was near-mint.
They knew that they were sitting on an absolute fortune, as there are just hardly any Mickey Mantle rookie cards in existence with a rating of 9 or higher.
-
In the end, the card sold for a staggering $12.6 million, and it will probably turn out to be a very shrewd investment, as the value will likely continue to rise.
-
This was the dream of all sports collectors - stumbling upon the stash of unopened cards that are sitting in somebody's basement.
The fact that the boxes were unopened preserved the condition of the cards, which is why the Mickey Mantle rookie card was able to sell for so much money.
What other treasure is sitting in the basement of somebody's home?