Manchester United Post Record Revenues for 2017/18 Season
Published on September 26, 2018
Written By:
Ned Wilson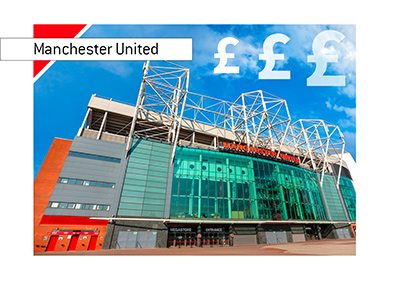 Another football giant has just announced a record year in terms of revenues and this time it is Manchester United. They ended the year generating £590 million despite lackluster performance over the past few years and more importantly, missing out on the Champions league football this season.
Major contributor to the growth in revenues, as is the case in many Premiership clubs, has been broadcasting and commercial revenues which were up 2.3% from the previous fiscal year, while the match day revenues fell slightly to give them an overall revenue increase of 1.5%.
Notably, Manchester United has sealed seven new sponsorship deals including a first time sleeve sponsorship, which was introduced in the Premier League this year, with US manufacturing company Kohler.
Profit before taxes for the year was £26 million with net debt growing to £253.7 million. Costs have also risen 10% in relation to the previous year, something Manchester United management will have to be careful about with the revenues from UEFA matches expected to be significantly down with only Europa League to play for in this season.
Still, the management feels bullish on projected revenues for the 2018/2019 season, which are set to rise about 5%, again driven by its huge popularity worldwide and increased broadcasting and commercial revenues. Both are a result of Manchester United reputation, but also stronger broadcasting deals, which Premier League has been able to command being the strongest brand when it comes to the European football leagues.