Los Angeles Chargers Slight Road Favorites on Thanksgiving Day
Published on November 22nd, 2017 6:52 pm EST
Written By:
Dave Manuel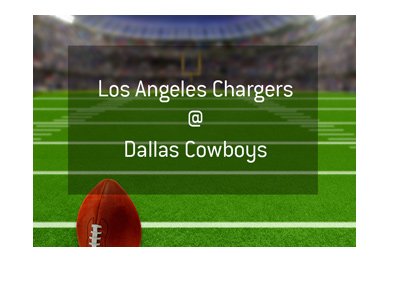 The Los Angeles Chargers, led by Philip Rivers and Melvin Gordon, will head to Dallas to take on the Cowboys on Thanksgiving Day.
Under normal circumstances, the Dallas Cowboys would be home favorites in this contest. The Cowboys are out of sorts, however, as Ezekiel Elliott is currently in the midst of a six game suspension. Elliott's absence from the line-up has thrown the Cowboys completely out of rhythm, and they run the risk of missing the playoffs if they don't get things under control quickly.
Righting the ship will largely fall on the shoulders of Dak Prescott, who turned in the worst performance of his career last week against the Philadelphia Eagles. In order to notch a win on Thursday, Prescott will need to connect early and often with the likes of Dez Bryant and Terrance Williams. Against the Los Angeles Chargers defence, however, this is easier said than done.
The Chargers are coming on fast and still have a reasonable shot of winning their division, especially given their schedule to close out the year. While the Chargers are 4-6, they are a much better team than their record would indicate, as they lost a number of extremely close games that could have gone the other way. The Chargers desperately want a win on Thursday and will be relying heavily on their defence and Melvin Gordon to get it.
Here are the odds for Thursday's game:
Los Angeles Chargers, 1.74
Dallas Cowboys, 2.15
The spread:
Dallas Cowboys, +2.5, 1.91
Los Angeles Chargers, -2.5, 1.91
Total Points
Over 47.5, 1.91
Under 47.5, 1.91
-
The Los Angeles Chargers are feeling great after a home demolition of the Buffalo Bills last week, and I expect that they will continue this momentum into Thursday's game.
This will leave Dak Prescott to re-ignite the Cowboys' offence, which might be easier said than done against the Chargers' defence.
All in all, the Chargers certainly deserve to be the favorites in this game without Ezekiel Elliott in the line-up.
Odds Source
: William Hill