LeBron Has Scored 10+ Points In Over 1,100 Straight Games
Published on January 1st, 2023 5:33 pm EST
Written By:
Dave Manuel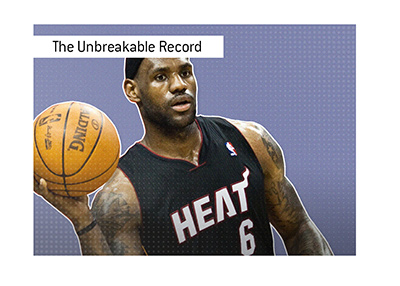 Michael Jordan scored double digit points a staggering 866 games in a row before having his streak snapped.
LeBron James has scored 10+ points in 1,124 straight games and counting.
This is the unbreakable LeBron James record.
-
LeBron's 10+ point streak started all the way back in the 2007 season.
Since that time, LeBron has moved from Cleveland to Miami, back to Cleveland, and now to Los Angeles.
During those years, one thing has remained the same - LeBron's consistency.
Over the course of 1,124 straight games that he has played in since 2007, LeBron has never scored less than 10 points in a game.
That is a stunning statistic.
No nights off where LeBron put up just 5 points.
No games where LeBron scored less than 10 points and then was pulled due to injury.
10+ points. Night after night. City after city.
Even at the age of 38, LeBron is still putting up double digit points, each and every night.
-
Let's put this record into some perspective.
To start, LeBron leads the GOAT, Michael Jordan, by nearly 300 games when it comes to his double digit points streak.
That is nearly FIVE SEASONS worth of games.
There are 82 games in every NBA season, which means that LeBron has scored 10+ points in 13.7 season's worth of games.
Imagine that for a second - most player's NBA careers don't last 13.7 seasons.
LeBron has scored 10+ points in a full career's worth of games.
-
LeBron holds a number of records - a number of them are breakable.
This record, however, is likely never to be broken, and is a testament to LeBron's durability and consistency.