Jerry Rice Set Receiving TD Record (At The Time) - in 12 Games
Published on October 30th, 2022 4:28 pm EST
Written By:
Dave Manuel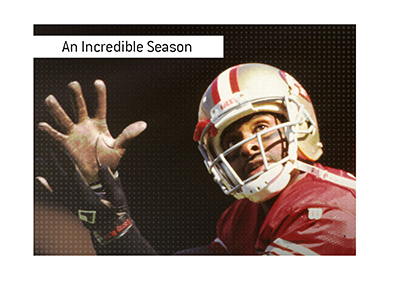 Much is made about the fact that a wide receiver has NEVER won the MVP award (though a kicker did, figure that one out).
Randy Moss certainly made a case for the MVP award in 2007, when he set the all-time receiving TDs in a single season record with 23 touchdowns.
Jerry Rice, however, had an even more incredible season.
-
Heading into the 1987 season, people already knew that Jerry Rice was special.
After all, he had posted a 86 catch, 1,570 yard, 15 TD stat line in just his second season in the league, and he clearly had great chemistry with Joe Montana.
1987, however, was set to be an even more magical season.
-
Jerry Rice missed four games during the 1987 season due to the player's strike.
Despite playing just 12 games, Jerry Rice would still set the record for most receiving TDs in a single season, with
22
.
Jerry Rice would score a touchdown in all 12 of the games that he played during the 1987 season, and would put up 1,078 receiving yards.
In addition, Rice would also add another touchdown on the ground.
One of the craziest stats from the 1987 season - Rice would become the first player to ever double the total of the next closest competitor in a statistical category since the NFL-AFL merger, as Mike Quick would be second on the list with 11 touchdowns.
Jerry Rice would crush the previous receiving TDs record in 1987, as the previous record was held by Mark Clayton, with 18 TDs.
This despite the fact that Jerry Rice played in just 12 games in 1987.
An incredible feat.
-
Despite these numbers, and despite being named the NFLs MVP by the Newspaper Enterprise Association, Jerry Rice would NOT win the MVP award in 1987.
John Elway would win the award in 1987, despite throwing for just 19 touchdowns in 12 games (Joe Montana, on the other hand, would throw 31 touchdowns).
If Jerry Rice couldn't win the award in 1987, it's hard to imagine any wide receiver even winning the award.