Harden Currently 1.40 To Win MVP Title
Published on February 10th, 2019 12:22 pm EST
Written By:
Dave Manuel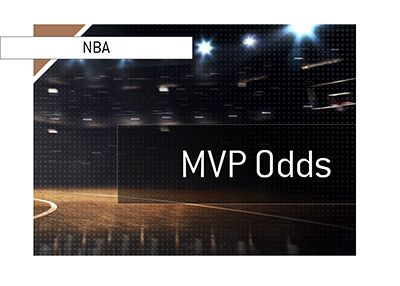 Giannis Antetokounmpo. The "Greek Freak". Leading the Milwaukee Bucks to one of the best records in the NBA. Arguably the most valuable player in the entire league right now.
Even with all of these accolades, Antetokounmpo isn't the front-runner for the MVP award in the NBA this season. That distinction belongs to James Harden of the Houston Rockets, who is currently the clear favourite to win the MVP award for the second straight year. Despite the fact that the "Greek Freak" has been lights out this season, Harden has been even better. Despite the fact that the Bucks are 41-14 and the Rockets are 32-23, Harden is still the runaway favourite to win.
That just speaks to how incredibly great Harden has been this season.
Harden has scored 30 points in a game for 29 straight games, including a 42 point effort against the Oklahoma City Thunder on Saturday night.
To put this into perspective, Lebron James, Michael Jordan and Kobe Bryant have all failed to match this number throughout their careers. The only other player in the history of the NBA to put up this type of consistent production was Wilt Chamberlain, who scored 30 points in a game 65 times in a row in 1961-62 and another 31 times in a row in 1962.
Harden is currently averaging 36.6 points per game this season, a full 7.6 points per game more than the next closest competitor, Anthony Davis. That is a statistical anomaly that just doesn't happen in this day and age. There is just too much talent parity for these types of gaps to take place - at least, so we thought.
On top of that, Harden is 5th in the league in assists with 7.8 per game. So, even with all of his scoring, Harden isn't even that much of a ball hog.
-
It's pretty typical that the best teams in the league will spawn the MVP, though that is not the case this season, as the Rockets have been nothing special but Harden is still the clear favourite to win the award.
Let's take a look at the current betting odds for the MVP award, so you can see how much of a favourite Harden is to win:
James Harden, 1.40
Giannis Antetokounmpo, 4.00
Paul George, 12.00
Stephen Curry, 15.00
Lebron James, 17.00
Kawhi Leonard, 21.00
In any other season, the "Greek Freak" would be the runaway leader to win the award. After all, the Bucks are one of the best teams in the league this season, which is a stunning reversal from years past.
Unfortunately for the "Greek Freak", his time at the top is going to have to wait, as the "Beard" clearly plans on winning his 2nd straight MVP award.