Valencia vs. PSG (Paris Saint-Germain) Odds - UEFA Champions League - Feb 12h, 2013
Update: Final Score -
Valencia vs. PSG 1-2
--
On Tuesday February 12th, 2013 Valencia are hosts to PSG (Paris Saint-Germain) in the 1st leg of the UEFA Champions League round of 16 at the Mestalla Stadium in Valencia, Spain.
Valencia finished second out of Group F behind Bayern and ahead of BATE and LOSC Lille with 13 points in 6 matches while PSG finished on top of their group (Group A) ahead of Porto, Dynamo Kyiv and Dinamo Zagreb with 15 points.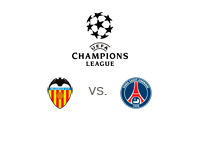 Valencia 11/8
Draw 9/4
PSG 21/10
This means that a successful $100 bet on Valencia would yield a total of $237 while the same bet on PSG, if successful, would yield a total of $310.
The bookies are giving a slight advantage to Valencia to win the 1st match at home.
Star studded PSG are still coming together as a team and their advantage in this matchup is the individual player power, while Valencia will be looking to capitalize on their experience as a collective.
Valencia are in 5th place in the Spanish La Liga at the moment and are coming off a 1-0 victory vs. Getafe and a 1-1 draw vs. Barcelona. Valencia are a tough team to beat at the Mestalla Stadium. Out of 18 home games so far this season, including the Spanish League, Spanish Cup and the UEFA Champions League games, Valencia only lost 3 times.
PSG are on top of the French Ligue 1 table with 51 points after 24 games and most recently they beat Bastia 3-1. Zlatan Ibrahimovic is the lead scorer for the team with 21 league goals so far this season. The newly acquired star David Beckham is not going to be making his first appearance vs. Valencia on Tuesday, but he very well might be ready to play in the return leg at the Parc des Princes on March 6th.
PSG are aiming high this season in the UEFA Champions League, but they will have to get past Valencia first.
This should be an interesting match as we have a battle between star power and experience. Who will come out on top?
The UEFA Champions League round of 16 matchday 1 on Tuesday, February 12th can not come soon enough.