Lionel Messi Back at His Best for Barcelona FC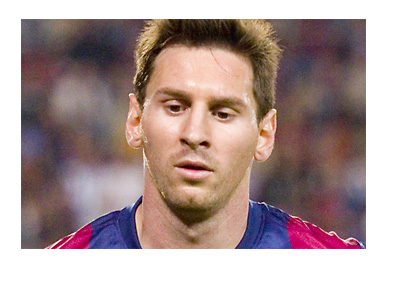 The intense comparisons between him and Real Madrid arch-rival Cristiano Ronaldo apart, few doubt Lionel Andres Messi's place as one of the greatest players the sport of football has ever seen. Dousing rumors of a possible move to Chelsea, a news that took the social media by storm in early January, he silenced Doubting Thomases with a kind of on-field form not witnessed since his heydays in the 2011-2013 period.
On Sunday the 15th of February, Messi capped his 300th appearance for Barcelona with a hattrick against Levante, a match the Catalans won 5-0. His 23rd hattrick put him on par with Ronaldo who has an identical figure to his name. When it comes to all competitions he has 31 goals and better than his Real Madrid rivals's 27. At the end of the match against Levante, the Argentine's La Liga tally stood at 269 and is way ahead of Thelmo Zarra's 251. His scoresheet for the current season of 2014-15 stands at 26 which is just 2 less than that of Ronaldo's. Out of the 26 goals, 14 have come in the two months of 2015 itself, underlining the mercurial forward's incredible revival in form.
The first signs of Messi's return to form was seen on December 7 2014, when Messi scored a hattrick in a 5-1 thrashing of RCD Espanyol. 2015 began with a strike in a 3-1 humbling of La Liga champions Atletico Madrid. His assist also helped Luis Suarez get one of very few goals the Uruguayan striker has scored for the club since his advent in September. January 18's 4-0 defeat of Deportivo saw Messi earn his 22nd hattrick.This was followed by a double strike in the 2nd leg Copa del Rey encounter against Elche.
His achievements in the European circuit have been no less remarkable. He already has 8 goals from his 6 encounters in the UEFA Champions League for the 2014-15 season. This was capped by a hattrick against APOEL FC of Nicosia in November 2014 which saw him cross Spaniard Raul Gonzalez's tally of 71 for the Championship.
With the waning of fellow Barca team-mates Iniesta and Xavi, Messi is increasingly finding himself in the role of a playmaker-cum-scorer on the right flank, something he seems to be relishing immensely of late. Add to that the media and club controversies having become a thing of the past, January 2015 has turned out to be one of the best months the Argentine has seen with the club. His eight goals and three assists during that month is a pointer of things to come.
There is nothing more Messi enjoys than to be playing in the European circuit and Wednesday's UEFA round of 16 clash with Manchester City is the kind of stuff he has been looking forward to for some time. He would very much want Barca's twelve-match winning run to continue and his continuing form will be pivotal to his club's success in the coming months.
Wanting to put 2014 behind him, Messi said he wanted to keep improving and that he looked forward to this year with great optimism and a vision for his club and country. It may be noted that in 2014, he made just 46 appearances and scored 41 goals for the Catalan giants which were his lowest counts in five years. His four goals for Argentina wasn't enough for his team to win the 2014 World Cup, an achievement he dearly yearns for. However it appears that all this is just a minor blimp in an extraordinary career. The world will wait and watch what he does in 2015.