Life Seems Good for Barcelona's Gerard Pique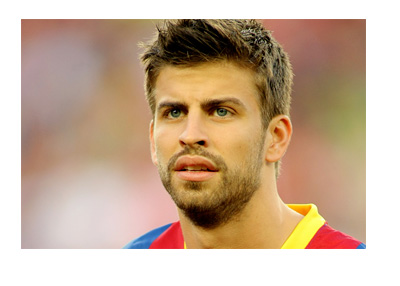 In a team famed for its attack consisting of Messi & Co., Barcelona defender Gerard Pique has held his own.
After a dismal 2014 World Cup showing, few expected the 6ft 4in defender to get into his groove soon. His form had sunk to such a low that coach Luis Enrique had no option but to bench him. But that worked for Pique, for after his reinstatement into the Barca line-up he has been playing some of the best football of his career.
Against Real Madrid on Sunday in the El Clasico clash, Suarez may have have got them the winner but it was Pique's outstanding performance that won the day for the Catalan club. He was head and shoulders above everyone else. He won 100 per cent of his tackles, his passing had a 88 per cent accuracy and he effected 3 vital interceptions.
His importance for the club is underlined by the 182 appearances he has made so far for them and as many as 65 caps for his country Spain. He has been a participant in almost every laurel his club and country have won since 2008 - 16 titles for Barcelona and for Spain the 2010 World Cup and the 2012 European Cup. As a defensive centre-back it's remarkable that he has scored on 26 occasions for Barcelona and 4 at the international level. Many of them have come from his famous and extremely powerful headers.
On the personal front, the 28-year old defender has found the perfect match in world-famous pop icon, the Colombian-born Shakira. They share the same birthday, although she's ten years older. They first met during the video shoot of the World Cup 2010 official song "Waka Waka". Since then they have been inseparable and borne two children, both boys, in 2013 and January 2015. The Spanish defender is ultra-possessive about his partner and does not want her to shoot videos with other men, but only with women.
The strapping Pique is also the face of Mango's men's line HE and has been so for four consecutive years starting 2012/2013. He also lent his voice to the role of the Pirate King in the Catalan version of the 3D animated comedy "The Pirates! In an Adventure with Scientists!"
In March 6, 2015, Pique launched his own version of a mobile football game. The Catalan's latest off-field venture called the Final Kick is a simulation of a penalty shootout game and was showcased at the Mobile World Congress in Spain.The game has proved to be an instant hit and has already been downloaded an incredible 8 million times till date.
Life's on a roll for the tall and handsome Gerard Pique and he's just 28. Way to go, indeed!