Can Emmitt Smith's Rushing Yards Record Ever Be Broken?
Published on August 4th, 2023 3:29 pm EST
Written By:
Dave Manuel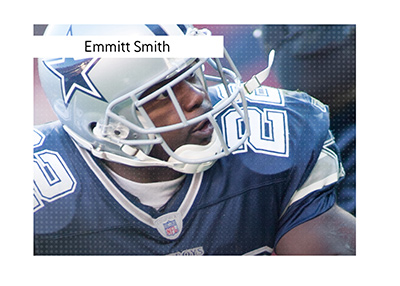 Does Emmitt Smith possess the NFL's most unbreakable record?
In a 15-year career, Emmitt Smith compiled a total of 18,355 rushing yards, putting him ahead of the likes of Walter Payton (16,726), Frank Gore (16,000) and Barry Sanders (15,269).
To put these totals into some perspective, here are the current rushing yards leaders for active NFL players:
Derrick Henry, 8,335
Nick Chubb, 6,341
Joe Mixon, 5,378
Derrick Henry, who has played 102 NFL games and will be turning 30 years old in January of 2024, isn't even HALFWAY to Emmitt Smith's mark.
Emmitt Smith played in 226 games and rushed a total of 4,409 times - not only was Emmitt Smith very, very good, but he was also amazingly durable as well.
Smith also continued to produce at a very high level after he turned 30. In fact, Smith rushed for 1,000+ yards THREE times after turning 30, and nearly did so again in his last season in the league, rushing for 937 yards at the age of 35.
Incredible.
-
The reality is that the game of football has changed dramatically over the past 20 years.
To start, the game is much more QB-centric now, thanks to rule changes, increased QB mobility, the success of high-powered, QB-led offenses and more.
The importance of the running back has been diminished significantly over the years, and we can see that when it comes to contracts that are given out to running backs, as well as where running backs are being taken in the draft.
Many teams are using RBBCS - running back by committee - now. Running backs simply don't get as many touches as they used to, which makes them more expendable.
Emmitt Smith had multiple seasons where he touched the ball well over 400 times - this just doesn't happen in this day and age in the NFL.
-
Even if the NFL shifts back to valuing running backs again, it's hard to imagine a back being as durable and reliable as Emmitt Smith over the course of a 15-year career.
In this day and age, running backs are considered "old" at the age of 27-28.
For a running back to continue to produce well into his 30s would be unheard of.