Cameron Jordan Was Confused When Cleveland Browns Called Him
Published on March 23rd, 2023 1:20 pm EST
Written By:
Dave Manuel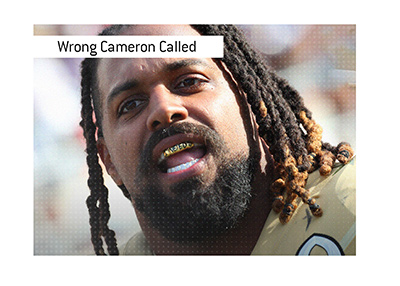 It's a draft tradition.
Before making their selection, a NFL team will call the player that they are taking to welcome him to the team.
These interactions are usually caught on camera, as they are usually feel-good moments.
At the 2011 NFL Draft, however, the Cleveland Browns called the wrong number.
You see, there were two players available in the 2011 Draft that had similar names - Jordan Cameron and Cameron Jordan.
Jordan Cameron was a tight end, while Cameron Jordan was a defensive end.
-
Cameron Jordan was taken in the first round by the New Orleans Saints.
It was a good night for Jordan, as he was taken in the first round.
The Saints called up Jordan, had a quick conversation with the California player, and that was that.
Cameron Jordan thought that his draft experience was over, and it was time to celebrate.
-
At the beginning of the fourth round of the same draft, Cameron Jordan's phone rang.
It was the Cleveland Browns, and they were calling Cameron Jordan to welcome him to the team.
Cameron Jordan's heart probably skipped a beat, as he likely wondered just what was going on. Hadn't the Saints drafted him the day before?
There was confusion on both sides when Cameron Jordan finally realized what was likely going on - the Browns had made a mistake.
Cameron Jordan told the confused Browns' representative on the other end of the line that they had made a mistake, the Saints had already drafted him and that they probably wanted Jordan Cameron instead.
There was a quick apology from the Browns, and Jordan Cameron (USC tight end) was called with his life-changing news - he was now a member of the Cleveland Browns.
Cameron Jordan likely hung up the phone and had a bit of a laugh at the expense of the Browns.
-
The funny thing about this story is that both Cameron Jordan and Jordan Cameron went on to make the Pro Bowl over the course of their careers.