Jerry Rice's December 18th, 1995 Performance Continues To Be The Best Individual Performance in MNF HIstory
Published on October 4th, 2021 11:52 am EST
Written By:
Dave Manuel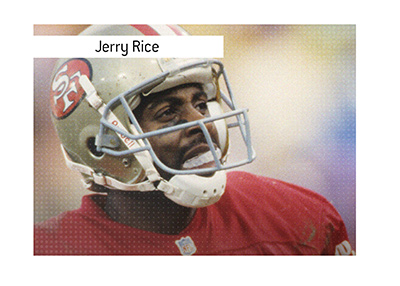 There have been some great individual performances in the history of Monday Night Football.
Who can forget Michael Vick's obliteration of the Washington Redskins on Monday Night Football in 2010, when he passed for 333 yards and four touchdowns, and rushed for 80 yards and another two touchdowns?
Or how about John Taylor's 11 reception, 286 yards, two touchdowns line on Monday Night Football on December 11th, 1989?
Or how about Tom Brady's 500+ yard, four touchdown passing masterpiece on September 12th, 2011?
Or how about Brett Favre's emotional four touchdown pass night shortly after the passing of his father?
-
These were all amazing performances, though the greatest single game performance in Monday Night Football history still belongs to one of the greatest players to ever play the game - Jerry Rice.
On December 18th, 1995, the 11-4 San Francisco 49ers hosted the 8-7 Minnesota Vikings on Monday Night Football.
The game was a back-and-forth affair, with the 49ers jumping out to a quick 21-0 lead in the first quarter, only to be caught by the Vikings later in the game.
49ers QB Steve Young and Jerry Rice would connect early and often throughout the course of the game.
Young would throw to Rice a total of 16 times, with the Hall of Fame receiver catching 14 of his targets.
Rice would amass 289 receiving yards in the game and find the endzone a total of three times. Rice's longest reception of the night was for 52 yards.
In addition, Rice would rush once for 10 yards, putting him just under 300 yards in total offense for the game.
-
Here are a few crazy things about Rice's performance:
1. He was 33 years old at the time.
2. At the age of 33, Rice would put up his best season, as he would finish the year with 1,848 receiving yards.
3. Rice would go on to post four more 1,000 yard receiving seasons.
-
There have been some great performances on Monday Night Football, though Jerry Rice is still the King.