These Records Will Never Be Broken
Published on August 13th, 2022 1:54 pm EST
Written By:
Dave Manuel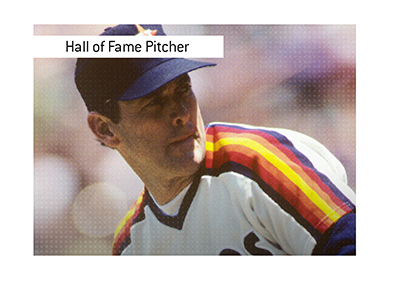 Nolan Ryan is one of the most singularly impressive athletes that has ever lived.
Ryan, known as the "Ryan Express", enjoyed a 27 year career.
When Nolan Ryan made his professional debut, Lyndon B. Johnson was President of the United States, having taken over from the assassinated JFK.
When Nolan Ryan retired, Bill Clinton was President.
Over the course of his amazing career, Nolan Ryan set many records that will almost certainly never be broken. Here are ten of them:
1.
5,714 Strikeouts.
Nolan Ryan is 850 strikeouts ahead of the next closest player, Randy Johnson.
The current ACTIVE leader in strikeouts is Justin Verlander, and he is 2,600 strikeouts behind Ryan.
Verlander is 39 years old.
This record will never be broken.
2. 7 No-Hitters.
Nolan Ryan threw 7 no-hitters over the course of his career, including one when he was 44 years-old.
Justin Verlander is the active leader in no-hitters, with a total of 3.
Again - an unbreakable record.
3. 27 Year Career.
Nolan Ryan played at a high level until he retired at the age of 46 years old.
In this day and age of massive contracts, there is virtually no chance that somebody would play for as long as Nolan Ryan did.
4. 2,795 Walks.
Again - the sheer length of Nolan Ryan's career makes this record almost impossible to break.
Nolan Ryan sits 962 walks ahead of the next closest player, Steve Carlton.
5. Lifetime Batting Average Against of .204.
A .204 batting average against is remarkable and this record will almost certainly never be broken.
6. 26 Seasons With a Win.
Again - in order for somebody to have a chance of breaking this record, they would have to play well into their 40s.
In this day and age, this would be almost impossible.
7. 383 Strikeouts in a Season (since 1893).
This is the only record on this list that MIGHT be broken, and still it's a very big longshot.
Since the retirement of Randy Johnson, the closest that anybody has come to breaking this record is Gerrit Cole, who tossed 326 strikeouts in 2019.
8. 6.56 Hits Allowed Per Nine Innings.
9. 5.26 Hits Allowed Per Nine Innnings in a Single Season.
10. 277 Wild Pitches.
-
The amazing Nolan Ryan possesses a number of records that will almost certainly never be topped.