Leagues Seen as Likely Restarting in Summer
Published on March 21st, 2020 5:26 pm EST
Written By:
Dave Manuel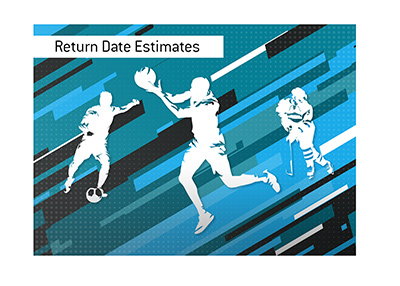 Leagues such as the NBA, English Premier League and NHL are currently on hiatus due to the global Coronavirus outbreak.
In addition, Major League Baseball has postponed the start of its season, while major Grand Slam tennis and golf tournaments have been pushed back.
When the NBA first shut down, the most hopeful among us thought that they would restart in mid-April.
Now, with the Coronavirus continuing to rampage through the world, this is seen as next to impossible.
Las Vegas odds can give us some sort of idea as to when the biggest sports leagues in the world might hope to restart.
Based on the odds that we have available, most think that the leagues will restart no earlier than July.
For instance, you can currently bet on the number of games that Major League Baseball will play this season. That line currently looks like this:
Over 105.5 Games, -120
Under 105.5 Games, -120
Assuming that the league doesn't try to extend its season, this would mean that the league would lose roughly 2 1/2 months of its season. So, if MLB starts in early April, this would mean that bookmakers would be targeting a mid-to-late June restart date for the league.
Let's take look at another line that is currently available to bet at a major offshore sportsbook:
When will the next NBA game be played?
On or Before July 3rd, 2020 EVEN
After July 3rd, 2020 -140
As you can see, bettors believe that the league likely won't get underway before July.
-
All of the major leagues and events have been developing plans in order to try and finish their seasons.
In order for leagues like the NBA and NHL to finish their seasons, they would likely have to start in early July, as they would have their next season starting in the fall.
This is obviously of minimal importance right now, though it will be interesting to see when the leagues finally get underway.