Free Soccer Betting Picks - Norwich City vs. Sunderland and Getafe vs. Real Betis
Published on September 26th, 2011
Click Here to Qualify for a £200 Bonus at Bet365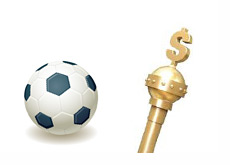 After the weekend is over, there are always several matches left for the picking on the subsequent Monday. Here is the preview of the two matches from the top 5 football leagues being played today.
Norwich City vs. Sunderland
Norwich City hosts Sunderland in the last match of the sixth round of the English Premier league. The bookies are split on this one offering nice odds on both team's victories while the draw pays 3.35.
Norwich City currently sits in fourteenth place with 5 points, while Sunderland has the same exact points tally and is in thirteenth position. Both teams are coming of a victory, with Norwich beating Bolton away 2-1 in the last round, with player advantage for the whole second half (not that it mattered as they scored both their goals in the first half) while Sunderland destroyed Stoke by 4-0 and got an impressive first win of the campaign.
We feel that Sunderland is a better team at this moment, both judging by form and players available. Norwich City is playing at home, but despite their last win over Bolton, they have really struggled this season with scoring and are still looking for their first home win. Sunderland has had somewhat tougher opponents so far and has really pushed two heavy weights, Chelsea and Liverpool in the earlier rounds. Arrival of Bendtner from Arsenal has also helped bolster their attack as he will do anything to get on the score sheet for the first time this season.
Norwich City attackers have scored only one goal so far, courtesy of Holt and that really highlights offensive problems that Norwich has been experiencing since moving to play with the big boys.
We see Sunderland as a winner in this one, but also playing less than three goals could be the way to make a safe bet on this match in what will most likely be a 1-0 type of affair.
King's pick:
Sunderland wins – 3.35
Less than three goals – 2.05
Getafe vs. Real Betis
In the ever unpredictable Spanish Primera Getafe plays host to the league leader Real Betis who has won all four matches so far and is the only team in the Primera with the perfect score. Betis is led by a dynamic duo of attacker Roque Santa Cruz and Ruben Castro who together have scored seven goals already and have been making havoc in front of opponent's goal.
Getafe has not had the best of runs so far as they lost three of four and have drawn one against Levante in the opener. They have not been scoring much either although they have had their share of chances, but the only efficient attacker so far has been Fedor who scored three goals so far, two of those coming in a 4-2 loss to Real Madrid.
Real Betis is slightly underdog in this one with odd on Betis winning set at 2.65, while it is 2.55 on Getafe, courtesy of the home court advantage. Still, according to what we saw so far, Betis should win this game, mainly because they have beaten much stronger opponents so far, and are simply having an easy time coming to the opponents 16 meters, where Santa Cruz and Castro have been merciless.
Real Betis to win by one here and maintain their perfect score on the season.
King's pick
Real Betis to win – 2.65