Dave Stieb Very Nearly Threw Two Consecutive No-Hitters
Published on February 26th, 2023 3:33 pm EST
Written By:
Dave Manuel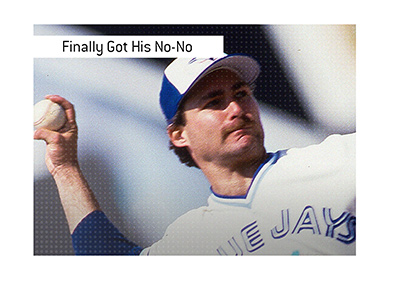 In 1938, Johnny Vander Meer of the Cincinnati Red threw consecutive no-hitters.
Many people assumed that this record would NEVER been duplicated in the modern baseball era, though Dave Stieb of the Toronto Blue Jays very nearly pulled off the feat in 1988.
-
In 1988, Dave Stieb was putting together another very solid season with the Toronto Blue Jays, as he would end up going 16-8 on the year.
Stieb would save his two best outings of the year for late September, as he would pitch three straight shutouts to close out the year.
On September 24th, 1988, the Blue Jays would take on the Cleveland Indians on the road.
Stieb pitched masterpiece that day, striking out eight en route to a 1-0 victory for the Jays.
Stieb had a no-hitter going into the ninth inning. After two outs to start the inning, Dave Stieb was just one out away from the no-no.
Julio Franco of the Indians would spoil Stieb's no-hitter, as he would smack a single to center field.
Stieb remained in the game and got Dave Clark to fly out to end the game.
-
Despite losing the no-hitter, Stieb was still feeling it.
In a home game against the Baltimore Orioles just six days later, Stieb took ANOTHER no-hitter into the 9th inning, and, once again, was one out away from tossing a no-no.
Once again, the no-hitter was spoiled by a two-out single, as Jim Traber popped up a lazy fly ball that managed to elude the first-base and right fielder.
Stieb couldn't believe his eyes, and could do nothing more than laugh.
Two no-hit bids over the course of a single week, and both were spoiled with two outs in the ninth inning.
-
Stieb would get his revenge two years later, as he would throw the first and only no-hitter of his career in September of 1990.