Doctor Who Operated on Owens Wouldn't Clear Him For Super Bowl
Published on September 8th, 2023 5:09 pm EST
Written By:
Dave Manuel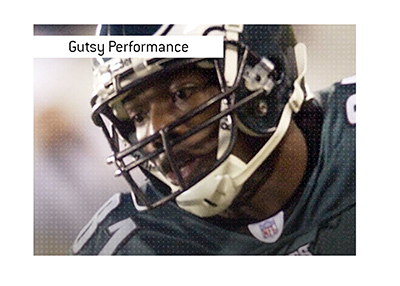 In December of 2004, Philadelphia Eagles wide receiver Terrell Owens suffered a devastating injury that looked to rule him out for the rest of the season.
During a game against the Dallas Cowboys, Owens fractured his fibula and suffered a high ankle sprain.
Owens had surgery a few days later, with the surgeon inserting two screws and a plate to stabilize Terrell's leg.
There is a possibility that Owens might be cleared in time for the Super Bowl, the surgeon said at the time.
-
It was assumed that T.O. would be out for the rest of the season, as it was assumed that his injury would doom the Super Bowl hopes for the Philadelphia Eagles.
Instead, the team continued to win, beating the Minnesota Vikings and Atlanta Falcons to advance to the Super Bowl against the New England Patriots.
Would Owens be cleared in time to play? Would he be in game shape if he was cleared?
Orthopedist Mark Myerson, the man who performed the surgery on Owens, had some bad news - he wouldn't clear Owens to play in the Super Bowl.
While he was "extremely pleased" with Owens' progress after the surgery, he would not be able to clear Owens to play, as the standard recovery time for the surgery hadn't yet expired.
Terrell Owens and the Eagles now had a decision to make - would he play or sit out?
-
Medical experts said that Terrell Owens would be literally risking his career by playing in the Super Bowl.
If he took the wrong type of hit before his leg had fully healed, they said, Owens might suffer an injury that would literally ruin his career.
It was a big risk.
-
Despite not receiving medical clearance from his doctor, and despite not being in game shape, Terrell Owens decided to risk it all and play.
Despite being "very tired", Terrell Owens excelled in the game, catching 9 passes for 122 yards.
Despite playing on a leg that was not medically cleared, Owens was targeted 14 times by Donovan McNabb.
Terrell's leg held up, though the Eagles ended up losing 24-21 to the New England Patriots.
-
People like to talk about how Terrell Owens was a "cancer" in the locker room, though he gained an incredible amount of respect from his teammates that day.
It remains one of the gutsiest performances in the history of the Super Bowl.