Super Bowl Remains Single Biggest Betting Event of the Year
Published on January 8th, 2022 12:48 pm EST
Written By:
Dave Manuel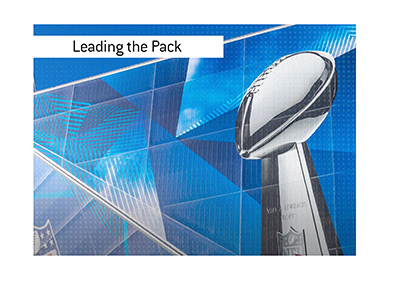 What is the single most bet on sporting event of the year?
If you were creating a list of the possibilities, you'd probably include the Super Bowl, the Champions League final and other major soccer games.
In reality, the Super Bowl is head and shoulders ahead of the rest of the pack, as an estimated $6 billion is bet on the Super Bowl inside of the United States alone.
Add in international wagers, and the total betting volume on the Super Bowl comes close to $8 billion every year.
-
The Super Bowl is a global phenomenon, though the event is obviously most popular within the United States.
As mentioned, roughly $6 billion is wagered on the Super Bowl every year.
In the past, many of these bets were made at offshore books, though as legal sports betting continues to sweep through the United States, more and more of these wagers are made at regulated sportsbooks.
Of the $6 billion in bets made within the United States, nearly half are for amounts of $100 or more.
The United States loves its football, and the United States also loves to bet on football.
-
In the past, you might have to travel to Las Vegas to place a wager on the Super Bowl.
In this day and age, however, more than two dozens US states have legalized sports betting, with many offering online betting.
As a result, you can safely assume that the amount wagered on the Super Bowl will continue to spike in the coming years.
-
The Champions League final is very popular with bettors in European countries, though the betting volume doesn't even come close to matching the Super Bowl.