Minnesota North Stars Took a Retired Nordiques Player in the 1991 Expansion Draft
Published on July 19th, 2021 9:10 am EST
Written By:
Dave Manuel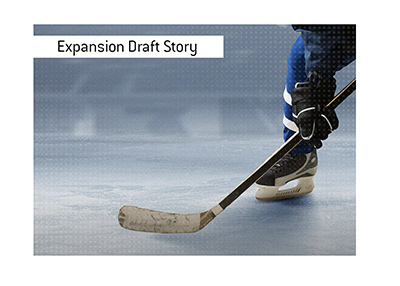 The NHL was a wild place during the early '90s.
Case in point - the 1991 dispersal and expansion drafts.
In 1991, the owners of the Minnesota North Stars purchased a new expansion franchise, which would become the San Jose Sharks.
As part of the deal with the NHL, the new San Jose franchise was allowed to select 14 unprotected skaters and two unprotected goalies from the North Stars franchise (the North Stars were allowed to protect 14 skaters and two goalies).
After that, the Sharks and North Stars were able to go back and forth, picking one unprotected player from each of the 20 other NHL franchises.
In short - a total mess that made the NHL look pretty bush league.
-
As mentioned, the North Stars and Sharks franchises were able to pick 10 players from each of the 20 other NHL franchises, but no team was able to lose more than 1 player.
The first player chosen was Jeff Hackett, who went to the San Jose Sharks.
The two teams went down the list, exchanging picks until the North Stars got to their last pick.
There was one team left that hadn't had a player picked as of yet - the Quebec Nordiques.
As any hockey fan likely knows, the Nordiques were REMARKABLY bad in the early '90s. Their fortunes would ultimately change (thanks to their consistently finishing as the league's worst team), though they were really, really bad in 1991.
So bad, in fact, that the North Stars wanted to pass on their last pick, as the Nordiques had absolutely nobody that they wanted.
After being informed that they had to make a pick, the North Stars selected Hall of Famer Guy Lafleur.
The problem? Lafleur had already retired and accepted a position on the Nordiques front office.
This wasn't allowed by the NHL, as Lafleur was now technically property of the North Stars organization.
In short - the three sides (NHL, Nordiques, North Stars) had to figure things out, as they had a Hall of Famer who would no longer be allowed to work as part of the Nordiques organization.
The solution? The Nordiques traded Alan Haworth for Guy Lafleur. Haworth had already left to play in Europe, and would never again play in the NHL.
-
The Nordiques had a unique talent for getting themselves into sticky situations (see the Lindros trade), though this one wasn't their fault.