The Day That Peyton Manning Posted The Fifth Worst QB Performance of All Time
Published on July 31st, 2022 1:52 pm EST
Written By:
Dave Manuel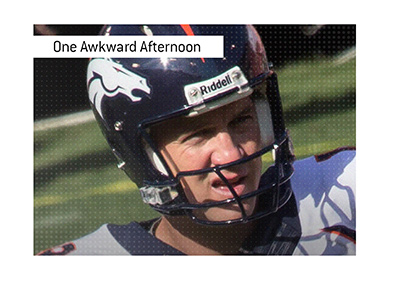 The five worst QB performances of all time (ranked via fantasy football points) belong to: Ryan Leaf, Nathan Peterman, John Skelton, Sam Darnold and Peyton Manning.
Peyton Manning?
That's right - Peyton Manning, who is one of the greatest quarterbacks of all time, also owns one of the very worst single-game performances of all time.
-
The date was November 15th, 2015.
Manning, still considered one of the best quarterbacks in the league, was looking forward to feasting against the inept Kansas City Chiefs defense.
The 7-1 Broncos were at home, while the 3-5 Kansas City Chiefs were on the road.
Doesn't seem like a recipe for Manning to post one of the worst games for a QB of all time, does it?
-
Peyton Manning was TERRIBLE from the moment he stepped into the game until the time he was mercifully yanked for Brock Osweiler.
Manning's stat line was atrocious:
5-20
35 Yards Passing
0 Touchdowns
4 Interceptions
Manning was sacked twice and fumbled once (though it was recovered by the Broncos).
Manning posted a QBR of 0.3 for the game, which was very nearly the infamous "perfect" 0.0 QBR.
-
Manning's very bad game resulted in a fantasy football score of
-6.6
points, which surely lost many, many fantasy football contests that week.