Patriots, Chiefs Have Best Odds of Making the Playoffs in 2019
Published on May 21st, 2019 12:59 pm EST
Written By:
Dave Manuel
Click Here To Bet on NFL Playoffs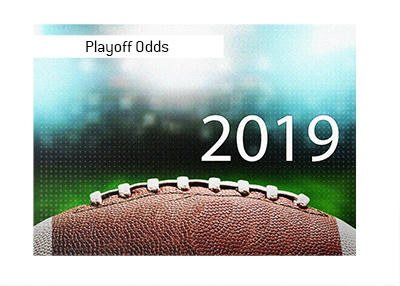 The start of the 2019-20 NFL season is just over three months away.
The offseason can be a particularly trying team if you are a diehard fan of a NFL team. Did your team bungle the draft? Ask any New York Giants fan about how they feel about Daniel Jones.
Did your team kill it via trades and free agency? Ask any Cleveland Browns fan how they are feeling prior to the 2019 regular season, and they will almost certainly tell you that they are more hopeful than they have been in years.
If you are a fan of a team like the Patriots, Chiefs or Saints, earning a playoff berth is practically a given, and you would likely be furious if they didn't earn a spot. These three teams are so talented that they would likely need to suffer an injury to their QB in order to miss the playoffs.
For teams like the Lions or Redskins, fans can only hope for the best, though making the playoffs is likely not expected.
There are ten teams that are better than even money to make the playoffs, while the remainder of the NFL's 22 clubs are considered long shots.
Let's take a look at the current odds for each of the NFL's 32 teams to make the playoffs, courtesy of Bet365:
Source: Bet365
Time Stamp:
May 21st, 2019 12:44 pm EST
Odds Subject to Change
New England Patriots, 1.10
Kansas City Chiefs, 1.28
New Orleans Saints, 1.33
Los Angeles Rams, 1.36
Indianapolis Colts, 1.40
Los Angeles Chargers, 1.50
Philadelphia Eagles, 1.50
Chicago Bears, 1.80
Dallas Cowboys, 1.83
Cleveland Browns, 1.83
Pittsburgh Steelers, 1.83
Green Bay Packers, 1.90
Minnesota Vikings, 2.25
Seattle Seahawks, 2.25
Atlanta Falcons, 2.37
Houston Texans, 2.37
Baltimore Ravens, 2.75
San Francisco 49ers, 3.00
Carolina Panthers, 3.25
Jacksonville Jaguars, 3.75
New York Jets, 3.75
Tennessee Titans, 4.33
Buffalo Bills, 5.00
Tampa Bay Buccaneers, 5.50
Denver Broncos, 5.50
New York Giants, 6.00
Detroit Lions, 6.00
Washington Redskins, 6.00
Oakland Raiders, 7.00
Cincinnati Bengals, 8.00
Arizona Cardinals, 9.00
Miami Dolphins, 10.00
-
Who do you think has value on this list?