Tomlinson Put Up Nearly 500 Fantasy Points During 2006 Season
Published on November 30th, 2021 3:48 pm EST
Written By:
Dave Manuel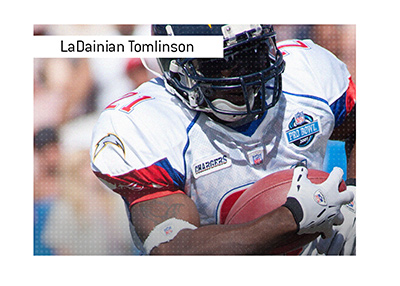 Following the 2006 season, San Diego Chargers' running back LaDainian Tomlinson won the Most Valuable Player award.
In fact, Tomlinson didn't just win - he received 44 of 50 possible votes for the award, easily besting Drew Brees and Peyton Manning.
Tomlinson's 2006 season remains one of the very best offensive seasons in the history of the NFL, if not the very best.
If you had him on your fantasy team in 2006, there is a very good chance that you won your league, as Tomlinson would finish with nearly 500 fantasy points.
-
Let's look at Tomlinson's absolutely ridiculous stats from the 2006 season.
To start - Tomlinson rushed for a total of 1,815 yards over 16 games.
Tomlinson rushed for
28
touchdowns.
In addition, Tomlinson caught 56 passes for 508 yards, and cashed in three receiving touchdowns.
But wait - there's more!
In addition to these ridiculous numbers, Tomlinson also went 2-3 from the quarterback position, and both of his completions resulted in touchdowns.
So, in total, Tomlinson accounted for 33 touchdowns - an average of more than two per game.
-
Tomlinson's 2006 season actually got off to a pretty uneventful start.
After four games, Tomlinson had rushed for about 336 yards while finding the endzone three times.
Solid numbers, but nothing spectacular.
After the first month of the season, however, Tomlinson absolutely went off.
In a Week 5 win against the San Francisco 49ers, Tomlinson rushed for four touchdowns.
In Week 6, Tomlinson combined for over 140 yards on the ground and through the air.
From Weeks 7-15, Tomlinson would not rush for less than 100 yards in any single game. This streak included games where he rushed for 183, 172, 178 and 199 yards, respectively.
From Weeks 7-14, Tomlinson would not score less than 2 touchdowns in any game. This run of weeks included two games where Tomlinson scored four touchdowns, and another three games where he scored three.
So, over the course of a 16 game season, Tomlinson would score four touchdowns in a single game on THREE separate occasions.
-
Tomlinson would follow this up with another impressive performance in the postseason, as he would rush for 123 yards and 2 TDs against the New England Patriots, though his team would fall by a score of 24-21.