Gray Still Holds Record for Most High School Touchdowns
Published on January 28th, 2023 2:20 am EST
Written By:
Dave Manuel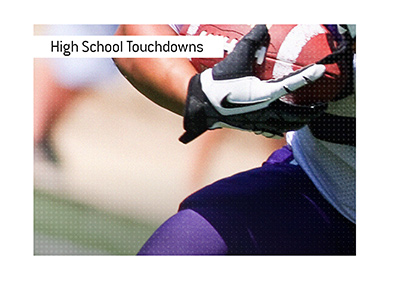 When the 2011 high school football season started, Johnathan Gray had two goals:
1) Win a third straight state championship with his team, Aledo High School
2) Set the all-time high school touchdown record
Gray had plenty of work to do when it came to his second goal, as he entered his senior season 70 touchdowns behind Michael Hart, who set the high school touchdown record in 2003.
Michael Hart finished his time in high school with 204 touchdowns, and Gray was intent on breaking that record.
-
Gray was a force of nature in his senior year at Aledo, rushing 346 times and catching an additional 26 passes.
Gray would end up accomplishing both of his goals, as Aledo would win a third straight state title, and Gray himself would break the high school touchdown record.
Over the course of 16 games, Gray rushed for 3,886 yards, meaning that he averaged 10.9 yards per carry.
On the receiving side of things, Gray caught 26 passes for 517 yards.
Gray, who averaged roughly 275 yards of total offense per game in his senior year, found the endzone a total of 70 times - 65 times on the ground, and an additional 5 times through the air.
By the time the season came to an end, Gray had set the all-time high school touchdown record with a grand total of 205 touchdowns.
Here is the breakdown of his touchdown output in high school:
Freshman - 15 rushing TDs, 0 receiving TDs
Sophomore - 50 rushing TDs, 9 receiving TDs
Junior - 59 rushing TDs, 2 receiving TDs
Senior - 65 rushing TDs, 5 receiving TDs
The best game of Gray's high school career came in a September 30th, 2011 contest against Springtown, where Gray rushed for 347 yards and 7 touchdowns.
-
Gray won the ESPN HS's Mr. Football USA award TWICE, as well as the Gatorade National Player of the Year.
Gray was the #1 running back according to Scout, Rivals and ESPN, and it's not surprising that Gray was heavily recruited, and he eventually chose to play with the University of Texas.
Gray's playing career would be derailed by two Achilles tears (one on each leg), and he would go undrafted in the 2016 NFL Draft.