Green-Beckham Finished His High School Career with 6,356 Receiving Yards
Published on March 16th, 2023 12:52 am EST
Written By:
Dave Manuel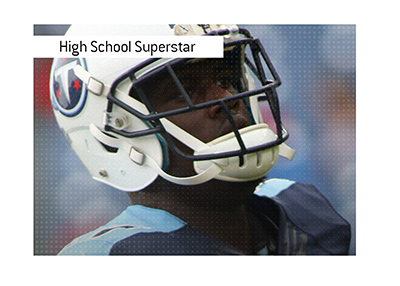 The list of the greatest high school wide receivers of all time includes some familiar names, including the likes of A.J. Green and Steve Smith.
The title of greatest high school wide receiver of all time, however, belongs to Dorial Green-Beckham.
During his time at Springfield Hillcrest, Green-Beckham compiled an ungodly 6,356 of receiving yards.
This topped the previous record, which was held by Abram Booty (5,867 yards).
-
In his freshman year at Springfield Hillcrest, Green-Beckham managed a very respectable 37 catches and 801 yards. Green-Beckham would find the endzone a total of 12 times.
In his sophomore year, Green-Beckham really broke out, finishing the year with 66 catches, 1,616 yards and 23 touchdowns. Green-Beckham averaged an eye-popping 24.49 yards per catch in his sophomore year.
In his junior year, the numbers continued to increase, as Green-Beckham would finish the year with 78 catches, 1,706 yards and 15 touchdowns.
In his senior year in high school, Beckham-Green blew the doors off of the competition, finishing with 119 catches, 2,233 yards and 24 touchdowns.
Over his 13 games as a senior, Green-Beckham would average 171.8 yards per game of receiving offense.
In addition, Green-Beckham would rushed 4 times for 55 yards and 1 touchdown in his final year in high school.
-
During his four years playing high school football, Green-Beckham would catch 300 passes for 6,356 yards and 74 touchdowns.
-
Unsurprisingly, Green-Beckham was a five-star recruit out of high school, and he would end up choosing the University of Missouri.
Green-Beckham tried to transfer to the University of Oklahoma for his junior season, though the NCAA made him sit out the entire year.
Green-Beckham wouldn't play a single down for Oklahoma before declaring for the NFL draft, where he would be taken in the second round by the Tennessee Titans.
Green-Beckham would finish his NFL career with 941 receiving yards and 6 touchdowns.