Chinese Grand Prix - Betting Odds, Event Details, History and Records
Date:
2024.04.19 - 2024.04.21
Contest:
F1
Location:
Shanghai International Circuit, China
The Formula 1 Grand Prix held in Shanghai, China is officially known as the 'Chinese Grand Prix.' The race is held at the Shanghai International Circuit, with the first one taking place in 2004. It has since been an integral part of the F1 calendar for most years.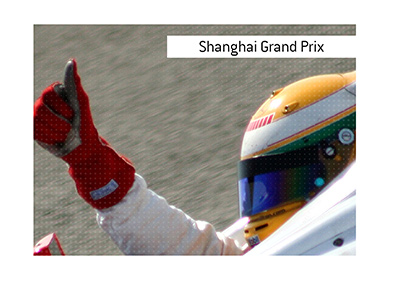 The race was last held in 2019, when Lewis Hamilton earned his 6th victory on the course. In 2024, we welcome the return of the Chinese Grand Prix to the F1 calendar.
Circuit:
The circuit is located in Jiading, Shanghai, China.
The track was designed by Hermann Tilke, who is responsible for many of the newer circuits on the F1 calendar. The design of the track was inspired by the Chinese character Shang, which means 'above' or 'ascend.'
The total circuit length is 5.451 km (3.387 mi).
The weather in Shanghai during the Grand Prix (typically held in April) can be unpredictable. It can range from sunny and warm to wet and chilly, and this unpredictability often adds another dimension to the race strategy and excitement.
Betting Odds:
The odds for the upcoming 2024 edition of the race will be posted closer to the event date.
Last Winner:
The event did not take place between 2020 and 2023. The last winner, in 2019, was Lewis Hamilton driving for Mercedes.
History:
The Chinese Grand Prix in Shanghai is a relatively recent addition to the Formula 1 calendar compared to some of the more longstanding races, but it has already established itself as a key fixture in the championship.
The inaugural Chinese Grand Prix took place in 2004. This was a significant step for F1, marking its increasing global reach and recognition of China's burgeoning importance in the world of motorsport and global market.
Notable Moments:
In 2019, F1 celebrated its 1000th World Championship race at the Shanghai International Circuit.
Winners of the past:
Lewis Hamilton has won the Chinese Grand Prix a record 6 times driving for McLaren-Mercedes and Mercedes. His last win was in 2019.
Fernando Alonso and Nico Rosberg have won the race twice each.
Atmosphere:
The atmosphere at the Chinese Grand Prix is electrifying, filled with passionate fans and intense competition. It's a blend of high-speed sporting drama, international glamour, and local culture.
The event attracts a mix of local fans and international visitors. The growth of Formula 1's popularity in Asia means that there's a strong local fanbase. Many Chinese fans have become dedicated followers of the sport, and you can see them proudly wearing team merchandise and waving flags.
Beyond the on-track action, there are often numerous trackside activities for fans, including concerts, entertainment zones, and areas where fans can purchase merchandise.
-
View more
Sporting Contests