Third-Tier Italian Soccer Match Produces 20-0 Result
Published on February 18th, 2019 1:49 pm EST
Written By:
Dave Manuel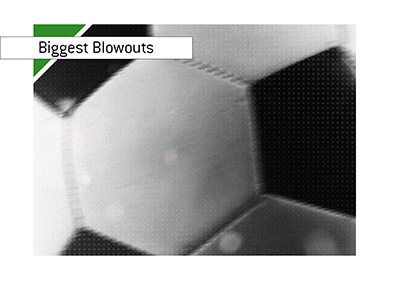 This weekend, Cuneo defeated Pro Piacenza 20-0 in a third-tier Italian soccer match.
Pro Piacenza was only able to field a team of 7 players, which is the absolute minimum to play a soccer game. In addition, all 7 players were under the age of 19. Pro Piacenza is having financial issues and is reportedly unable to make payroll, which resulted in all of the team's best players boycotting the match. If Pro Piacenza had not produced 7 players, they would have forfeited their fourth straight match and been booted from the league.
In the end, Cuneo took it easy on Pro Piacenza, as they enjoyed a 16-0 lead at the half before talking it easy on the other side.
-
Despite this massively lopsided result, the 20-0 score is not the most lopsided in the history of professional or international soccer.
The record for the most lopsided game belongs to a 2002 match between A.S. Adema and Stade Olympique l'Emyrne in a league in Madagascar. A.S. Adema won that match 149-0, though it was as a result of Stade Olympique l'Emyrne protesting what they felt was biased refereeing in the league. All of the goals scored in the match were own goals, and the fiasco resulted in suspensions and fines.
In 1885, Arbroath defeated Bon Accord 36-0 in a Scottish league. John Petrie would score a whopping 13 goals in the game.
In the same year, Dundee Harp would defeat the Aberdeen Rovers 35-0, and this result also took place in Scotland.
The most publicized lopsided contest likely belongs to Australian vs American Samoa in 2001, as this was actually a World Cup qualification match. Australia would win the match 31-0, though they would ultimately fail to reach the World Cup in 2002.