Brazil Currently Favoured to Win Tournament, Though France Lurks Close Behind
Published on July 4th, 2018 10:47 am EST
Written By:
Dave Manuel
Click Here To Bet on the WC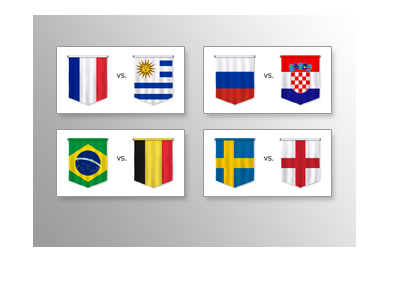 The upsets continued in the Round of 16 at the 2018 World Cup, as teams like Spain fell, joining the likes of Germany as early exits from the tournament.
There are currently eight teams left in the tournament - they are: Brazil, Belgium, France, Uruguay, Croatia, Russia, England and Sweden.
Of these eight teams, Brazil remains the favourite to win, while France, England and Croatia trail close behind.
Before looking at the individual odds for each Round of 16 match-up, let's look at the current odds to win the tournament outright:
Source: Bet365
Time Stamp:
July 4th, 2018 10:36 am EST
Odds Subject to Change
Brazil, 3.75
France, 5.0
England, 5.0
Croatia, 7.0
Belgium, 7.0
Uruguay, 17.0
Russia, 21.0
Sweden, 26.0
Now, let's look at the "To Qualify" odds for each of the four quarter-final matches:
France, 1.44
Uruguay, 2.75
Brazil, 1.57
Belgium, 2.37
England, 1.44
Sweden, 2.75
Croatia, 1.57
Russia, 2.37
-
As you scan through the list of individual games, you will likely have a hard time selecting any single team that is a lock to make it through to the semi-finals.
Uruguay, for instance, looked great during group stage play and has both Suarez and Cavani.
Belgium is loaded with talent and could certainly take Brazil to the limit. Sweden has been playing a very tricky and tough style of play that could give England fits, and Russia will be playing on their home soil against Croatia.
If you can go through this list and find any clear-cut winners, please let me know as I don't see any.
-
The World Cup has been unbelievable so far and it appears as though we are going to get some more classics in the quarter-finals.