First World Cup Tournament Took Place in 1930
Published on September 6th, 2021 5:13 pm EST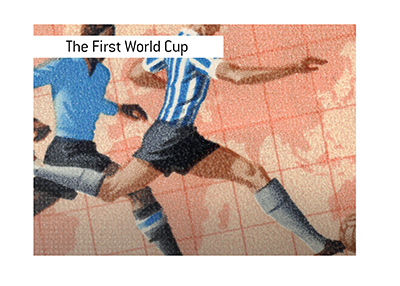 The World Cup is the most prestigious football tournament in the world, and it is watched by billions of people every four years.
The tournament was first run back in 1930 and has been hosted by 17 different countries (as of the time that this article was written).
The most successful team in World Cup history is Brazil, who have won the tournament a total of five times, while France is the current champion.
-
The first World Cup took place in 1930 and was hosted by Uruguay.
Uruguay was chosen by the hosting committee for a number of reasons, including the fact that Uruguay was the defending Olympic soccer champions.
Only thirteen teams played in the 1930 World Cup, and this included seven teams from South America, four teams from Europe and two teams from North America.
Due to the Great Depression, European countries were severely underrepresented, as these countries had trouble making it to the event as it was very difficult to travel from Europe to South America during this trying times.
Uruguay had a very good club at the time, and they easily advanced through Group Stage play, which set up a semi-final match-up against Yugoslavia.
Uruguay would thump Yugoslavia by a score of 6-1. Coincidentally, Argentina would win by the same score against the United States in the other semi-final game.
This set up a South American final between Uruguay and Argentina, which Uruguay would easily win by a score of 4-2.
So, Uruguay won the first-ever World Cup in 1930, and they did it in front of tens of thousands of their screaming fans.
-
An interesting footnote to this story.
Uruguay would not play at the World Cup again until 1950 (which they would end up winning).
Uruguay was incensed by the refusal of some European countries to play in 1930, so they reciprocated by refusing to participate in the 1934 and 1938 World Cups, both of which took place in Europe.