Can Man City Pull Out a Big Win on January 2nd?
Published on December 31st, 2015 3:22 pm EST
There is just no rest for the English Premier League as a number of teams, including Man City and Man Utd, will be in action on January 2nd.
One of the most interesting matches on Saturday will see Watford play host to Manchester City. Manchester City is currently three points behind both Arsenal and Leicester City at the top of the table and desperately needs a win on Saturday. Both Leicester City and Arsenal have very winnable games on Saturday, which means that a loss for Man City on the road against Watford could see them drop six points back of the lead. While there is plenty of time left in the season, overcoming two teams with a six point lead could prove to be very difficult for Man City.
Watford is not an easy win for Man City, as the Watford side has compiled a record of 8-5-6 so far this season. In fact, Watford could potentially leapfrog teams such as Man Utd and Liverpool with a win on Saturday, so they will have plenty to play for.
Watford has been mediocre at home so far this season, taking down just 1.4 points per game. The good news for Watford's fans is that Manchester City has been poor on the road so far this season, managing just 1.33 points per game.
Watford is coming off of a 2-1 loss to Tottenham in their last game, while Man City is 1-1-1 in their last three.
-
Here are the current odds for Saturday's match between Watford and Manchester City:
Watford, 5.00
Draw, 3.60
Man City, 1.73
Despite the fact that Watford has done reasonably well so far this season, they aren't being given much of a chance at all of beating Man City at home this Saturday.
According to the bookmakers, the two likeliest outcomes of Saturday's match are a 2-1 victory for Man City and a 1-1 draw, both of which are currently listed at 8.00 by bookmaker William Hill.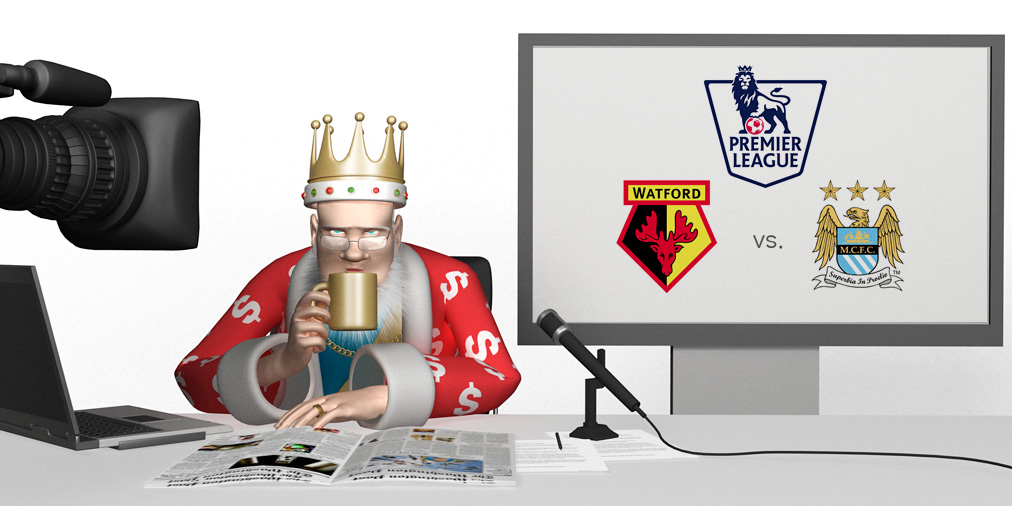 Can Man City keep up with the likes of Arsenal and Leicester City on Saturday with a win over Watford, or will they fall further behind in the race?