Tottenham vs. Juventus Champions League Preview
Published on March 4th, 2018 - 8:12am EST
Written By:
Ariel Noel
Click Here to Bet on Tottenham vs. Juventus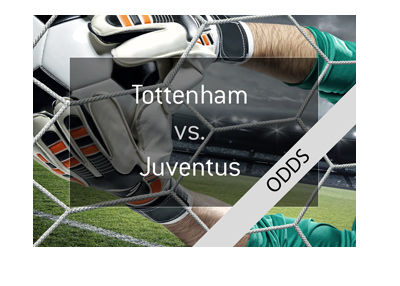 The Champions League game to watch on Wednesday is Spurs vs. Juventus. The first leg in Turin was a thrilling 2-2 draw, in which Juve pulled ahead 2-0 after only nine minutes and Christian Eriksen and his team came back with a dominating 2nd half performance.
The two big away goals make Tottenham the favourites to advance to the next round. The odds for the match are:
Source: Bet365
Time Stamp:
March 4th, 2018 - 7:40am EST
Odds Subject to Change
Tottenham: 11/10
Draw: 12/5
Juventus: 12/5
Odds to advance to quarter finals:
Tottenham: 4/11
Juventus: 9/4
--
Spurs being the favourites over the Italian giants Juventus almost does not seem like a surprise considering how well English teams are doing in European competitions this season. The influx of funds into English club football, compared to other European leagues, is starting to make a real difference. The truth is that Tottenham have only reached the UCL quarter finals once, while Juventus have been to the tournament final twice in the last three seasons alone.
Harry Kane and Christian Eriksen are on fire this season and the team, lead by Mauricio Pochettino, is coming together very nicely. Tottenham finished on top of their group with big home wins against Real Madrid and Borussia Dortmund. Domestically, Tottenham are battling to secure their spot in next year's Champions League and at the moment they are in 4th place.
After winning six consecutive Serie A titles, Juventus are challenged by Napoli this season and they are unable to focus on the Champions League as well as they were able to do in the past. Juve are also in the final of the Italian Cup, where they face AC Milan. Juventus finished 2nd in their group behind Barcelona.
--
Captained by two world class goalkeepers, Hugo Lloris and Gianluigi Buffon, Spurs vs. Juve at Wembley should be an awesome game and a treat for football fans worldwide. A matchup to look forward to is Harry Kane vs. Giorgio Chiellini.
Enjoy the game everyone!