Swansea Currently 1/3 To Be Relegated Next Season
Published on May 9th, 2018 10:44 am EST
Written By:
Dave Manuel
Click Here To Bet on EPL Relegation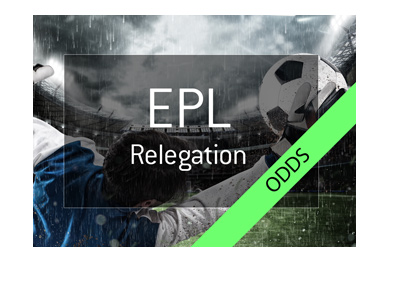 With Manchester City having wrapped up the EPL title a while ago, there won't be much in the way of thrilling finishes at the top of the English Premier League this season. There are Champions League spots on the line, however, as three points separates Liverpool, Tottenham and Chelsea near the top of the table.
The drama will be found at the bottom of the table, where a number of teams are fighting for their EPL survival. The stakes are immense, as staying in the English Premier League means tens of millions of pounds in extra money for ownership groups, more money available to sign players, more interest from fans, etc.
Two teams have already been guaranteed relegation for next season - Stoke City and West Brom. No matter what happens over the last couple of weeks of the season, neither of these clubs will be playing in the EPL next season.
There are three teams that could potentially be the third team to be relegated - Swansea City, Huddersfield and Southampton.
Let's take a look at the three teams and their odds to be relegated, courtesy of Bet365:
Source: Bet365
Time Stamp:
May 9th, 2018 10:13 am EST
Odds Subject to Change
Swansea, 1/3
Huddersfield, 5/2
Southampton, 100/1
As you can see, there is practically no chance of Southampton being the third relegated team, though there is still a mathematical chance that they meet this fate.
Huddersfield has one big advantage over the other two clubs - they have two games left to play, while Swansea and Southampton have just one.
Let's look at the point totals for the three clubs as of this point:
Southampton, 7-15-15, 36 points
Huddersfield, 9-9-18, 36 points
Swansea City, 8-9-20, 33 points
Let's look at the remaining schedules for the three clubs:
Southampton vs Man City
Swansea City vs Stoke City
Chelsea vs Huddersfield
Huddersfield vs Arsenal
As you can see, Swansea City has the easiest remaining game, though they will need major help from the likes of Man City, Chelsea and Arsenal.
Southampton can guarantee themselves a spot in the EPL next season with a win or draw against Man City.
Huddersfield needs just one point against either Chelsea or Arsenal and then they will play in the EPL next season.
Swansea City, on the other hand, needs Southampton to lose to Man City, Huddersfield to notch zero points in their two remaining games, and then they will need three points against Stoke City. After that, it will come down to tie-breakers, and Swansea City will need help there as well.
-
Who do you think will be relegated next season?