Westbrook Currently 1/6 To Win First MVP Award
Published on April 11th, 2017 2:40 pm EST
Written By:
Dave Manuel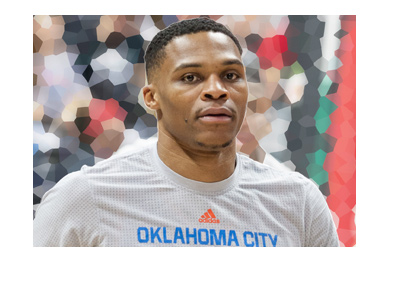 The race for the 2016/17 NBA regular season MVP award has been boiled down to two men - Russell Westbrook and James Harden.
There has been a great deal of debate over whether Westbrook or Harden should win the MVP award. Both of their teams (the Rockets and the Thunder) have made the playoffs, though the Rockets currently have 8 more wins than the Thunder.
Both men are the leaders of their teams, though the Thunder had to deal with the loss of Kevin Durant during the last offseason, as Durant decided to take his talents to the Golden State Warriors. The fact that the Thunder have made the playoffs after losing Durant is definitely a point in Westbrook's favour.
Both men sit atop the NBA in terms of their stats this year, with Westbrook possessing a lead in PPG (31.9 vs 29.1 for Harden), while Harden is ahead in APG (11.2 vs 10.4).
Russell Westbrook, who has been a triple double machine this year, has also averaged over 10 rebounds per game this year, which is no surprise given his amazing total of triple doubles that he has posted this year.
-
Russell Westbrook has gotten a tremendous amount of press this season due to his obscene number of triple doubles, as well as overcoming the loss of Kevin Durant, which is likely why he'll end up winning the award.
Westbrook detractors argue that his style of basketball is best suited to padding his stats and not helping the team, though there is no denying that the Thunder have made the playoffs after losing one of the best players in the league to free agency. This point alone makes Westbrook worthy of MVP consideration.
-
The oddsmakers believe that Westbrook is a near-certainty to win the MVP award - here are the current odds as of this moment:
Russell Westbrook, 1/6
James Harden, 5/1
Kawhi Leonard, 50/1
LeBron James, 50/1
LeBron James and Kawhi Leonard won't win the award, which leaves it to Westbrook and Harden.
A few weeks ago, Harden was the betting favourite to win MVP, though things have tilted dramatically in Westbrook's direction over since the end of March. This is likely due to the Rockets' struggles as of late, as they are 5-5 in their last 10 games.
-
You can likely take this to the bank - Westbrook and his ungodly number of triple doubles will be taking down the MVP award this year.