Roma vs. Shakhtar - Champions League Preview
Published on March 9th, 2018 - 8:42 am EST
Written By:
Ariel Noel
Click Here to Bet on Roma vs. Shakhtar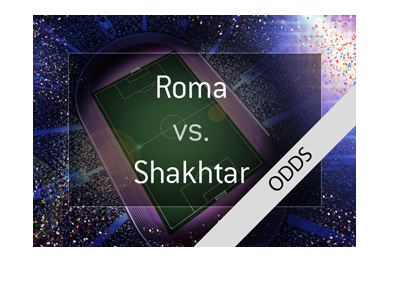 AS Roma host Shakhtar Donetsk in the second leg of the Champions League Round of 16 at the Stadio Olimpico in Rome on March 13th, 2018. Shakhtar won the first game at home with the score of 2-1 after coming from behind.
This is exciting times for both clubs, as making it to the quarter-finals of the tournament must have been wishful thinking at the start of the season from footballing as well as financial perspective. The additional amount received from UEFA for getting past the Round of 16 is €6.5m and this goes on top of endorsement deal bonuses etc. This might not be be a large amount for a club competing in the English Premier League for example, but for Roma and Shakhtar this is significant.
This would be the first quarter-final since 2008 for Roma. Shakhtar have been there more recently, coincidentally on the back of Roma in 2010/11, when they eliminated them 6-2 on aggregate.
The odds for the upcoming match at Stadio Olimpico are:
Source: Bet365
Time Stamp:
March 9th, 2018 - 8:27am EST
Odds Subject to Change
Roma: 4/6
Draw: 14/5
Shakhtar: 17/4
To qualify to quarter-finals:
Roma: 10/11
Shakhtar: 10/11
--
According to the odds, this is going to be as close it gets. Both teams have equal odds of qualifying to the next round.
At the time of writing, AS Roma are 3rd in the Italian Serie A tables, behind Napoli and Juventus and with a slender lead over Lazio and Inter Milan. Edin Dzeko and his teammates finished at the top of Group C in the Champions League ahead of Chelsea and Atletico Madrid, which is a feat in itself.
Shakhtar also had an impressive group campaign, finishing behind tournament favourites Manchester City and ahead of Napoli. Shakhtar have been a dominant force domestically, sharing the spoils in the Ukrainian league with Dynamo Kyiv every year since 1992.
--
This will be a very interesting match. And when it comes to impartial viewers, it will be tough to decide which game to watch live, Man Utd vs. Sevilla, or this one.
Many will choose to watch Roma vs. Shakhtar I am sure.
Enjoy the match everyone!