New Jersey, Pennsylvania Among States To Post New Record Handles
Published on October 18th, 2020 10:24 am EST
Written By:
Dave Manuel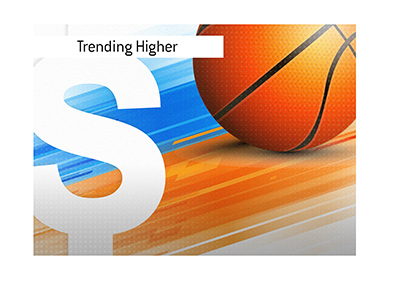 September was one of the busiest months in US sports betting history.
Thanks to the pandemic, the conclusions of the NBA and NHL seasons were pushed back to September and October.
On top of that, the NFL season got started on time in early September, while college football also started to resume.
This resulted in a very busy month at US sports books.
With more and more states offering legal sports betting to its residents and visitors to the state, the country's sports betting handles are increasing at a rapid rate.
In fact, September 2020 was the best month in the history of multiple states, including New Jersey and Pennsylvania, and the trend doesn't seem to be stopping anytime soon.
Indiana posted a new state record handle of over $207 million.
Iowa posted a handle of over $72 million.
West Virginia posted a handle of nearly $77 million.
New Jersey posted a new record handle of $748.6 million, while Pennsylvania came in at $463 million, which was a record for them as well.
With the NFL season in full swing and more college football conferences coming back to play over the next couple of weeks, the handles should continue to trend higher over the coming months.
-
Other states are watching this development and are desperate to get in on the action as well, as legal sports betting is adding considerably to the coffers of states such as New Jersey and Pennsylvania.
Some states will be offering legal sports betting soon, while other states are preparing legislation.
With state revenues on the decline, states like California will likely move forward with legal sports betting sooner rather than later, much to the delight of sports bettors across the country.