Oliver Kahn Won Golden Ball in Losing Effort in 2002
Published on August 12th, 2022 4:32 pm EST
Written By:
Dave Manuel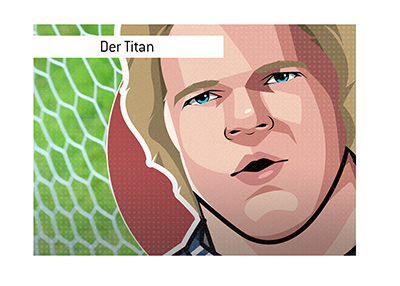 Only one goalkeeper has ever won the "Golden Ball" at the World Cup, which is given to the best player of the tournament.
That goalkeeper was Oliver Kahn, who won the Golden Ball in a losing effort in 2002.
Germany is typically one of the favourites to win the World Cup every time that the tournament is played, but 2002 was a different story.
Germany had a fortunate Group stage draw, as they were playing with Ireland, Cameroon and Saudi Arabia.
Ireland was Germany's toughest test in the Group Stage, as they played the Germans to a 1-1 draw.
In the other two Group Stage games, Germany won 2-0 (Cameroon) and 8-0 (Saudi Arabia).
After the end of Group Stage play, Oliver Kahn and Germany had given up just one goal.
-
Germany would win their next three games - Paraguay, United States and South Korea - all by a score of 1-0.
Paraguay would be Germany's toughest test, as it would take until the 88th minute for Germany to break through and score a goal.
Their quarter-final game against United States would be a bit easier, as Germany would score in the first half and then hang on.
The semi-final game against South Korea, however, was a nail-biter for Germany, as they would have to play in front of a hostile crowd (the 2002 World Cup was hosted by South Korea). Once again, they would need a late goal in order to push them through.
-
The Cinderella ride for the German side would come to an end in the finals, as they would lose to Brazil 2-0.
Kahn would hold the German side in for most of the game, as Ronaldo would score in the 67th and 79th minutes for Brazil.
-
In total, Kahn posted five clean sheets in the 2002 World Cup en route to winning the "Golden Ball".
Kahn continues to be the only goalkeeper to have ever accomplished this task.