A Look at Argentina's Qualifying Scenarios
Published on June 22nd, 2018 6:11 pm EST
Written By:
Dave Manuel
Click Here To Bet on Argentina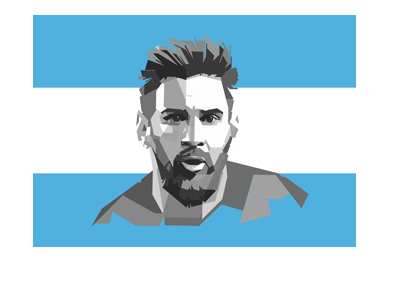 After playing to a draw against Iceland and losing 3-0 to Croatia, the chances of Lionel Messi and Argentina qualifying for the Round of 16 looked decidedly bleak.
On Thursday, a ray of hope appeared after Nigeria defeated Iceland 2-0. This result improved Argentina's chances of qualifying for the second spot in the group.
The top of the group is pretty much locked up, as all Croatia needs is a point to cement the top spot. Even if they lose to Iceland, they will likely still advance as the top spot in the group thanks to a superior goal differential.
This leaves three countries - Iceland, Argentina and Nigeria - let to battle for the second spot in Group D.
Let's look at the things that will need to fall into place for Argentina to qualify for the Round of 16, as well as their odds of doing so.
First things first - Argentina must beat Nigeria in order to qualify. If they lose or draw, Argentina is most certainly out of the tournament.
Second - Argentina needs to hope that they beat Nigeria and Iceland does not beat Croatia. If Argentina beats Nigeria and Croatia beats Iceland, Croatia and Argentina would move through to the Round of 16.
If Iceland beats Croatia and Argentina beats Nigeria, the second Group D spot will come down to goal difference. Assuming that Argentina and Iceland both win their next match, the first tie-breaker would be goal differential. As of this moment, Iceland has a one goal advantage in that regard.
After that, the next tie-breaker is record against the other team. Argentina and Iceland played to a draw, which means that a third tie-breaker - disciplinary record - would be used. As of right now, Argentina has three yellow cards while Iceland has zero, so Iceland would win this tie-breaker.
In short - the best way for Argentina to move through to the next round is for them to beat Nigeria badly in their final Group D match and hope that Iceland doesn't win.
-
Now - let's look at the current odds to qualify for the Round of 16 of the three teams in Group D not named Croatia:
Source: Bet365
Time Stamp:
June 22nd, 2018 5:55 pm EST
Odds Subject to Change
Nigeria, 7/4
Iceland, 5/1
Argentina, 4/5
As you can see, Argentina is the betting favourite to move through to the Round of 16 but it is going to be close.