The Story of Why Lionel Messi Left Nike
Published on October 17th, 2022 11:08 am EST
Written By:
Dave Manuel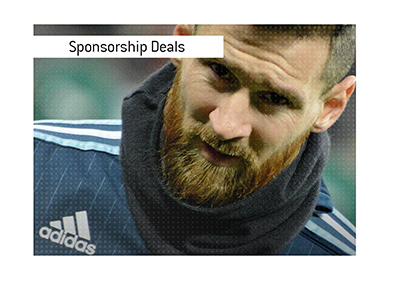 We won't be coming to the photoshoot, Lionel Messi and his team told Nike before the 2006 World Cup.
Why not?
Lionel Messi had decided to sign with Adidas.
-
In 2006, Lionel Messi was a rising young superstar.
After growing up in Argentina, Messi moved to Spain to join Barcelona at the age of 13.
In October of 2004, Messi would make his competitive debut with Barcelona at the age of just 17, and quickly established himself as a budding young superstar.
Years before, Nike had wisely signed Lionel Messi to a deal.
Messi's deal with Nike was up in 2006, and Nike assumed that he wouldn't be going anywhere.
In fact, Nike was so confident of the fact that they scheduled a photoshoot before the 2006 World Cup with their signed players that would be taking part in the tournament.
The photoshoot with Messi never happened, and he would sign with Adidas a short while later.
Messi remains with Adidas to this day.
-
So what happened?
According to a new book titled "Messi vs Ronaldo: One Rivalry, Two GOATs, and the Era that Remade the World's Game", a seemingly unimportant request by Lionel's father may have been the undoing of the relationship.
According to the book, Jorge Messi requested a "couple hundred pounds" worth of Nike athletic gear for his son to wear.
Jorge couldn't get a response from anybody at Nike, which caused him to question just how much they wanted his son.
-
Instead of showing up to the 2006 photoshoot with Nike, Messi instead revealed that he had signed a deal with Adidas instead.
Messi and his team contend that Adidas made a full-court press to sign the budding young superstar, and that Nike didn't seem all that interested in matching (Nike refutes this, and actually took Messi to court to try to keep him in their deal - they lost).
Apparently there were concerns over Messi's "personality" and that he may have been too shy to warrant such a large sponsorship deal.
Nike also had Cristiano Ronaldo inked to a deal, so perhaps they thought that Messi was more expendable.
Or, perhaps they simply thought that Messi wasn't going anywhere, as he had already been with Nike since the age of 14.
-
This isn't the first time that Nike has lost a future superstar.
Steph Curry has famously recounted the story of meeting with Nike representatives when he was a young player, and the Nike reps not knowing how to properly pronounce his name.
This led to Curry signing with somebody else.
-
These two gaffes with Messi and Curry have most certainly cost Nike hundreds of millions of dollars over time, and likely even more.