Changes Implemented For 2019 To Help De-Incentivize Tanking
Published on March 9th, 2019 9:29 am EST
Written By:
Dave Manuel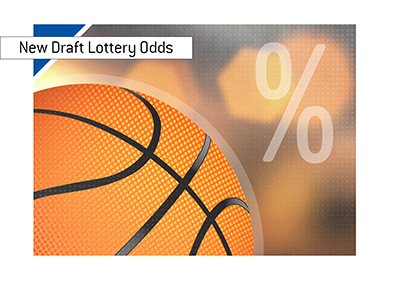 On September 28th, 2017, the NBA Board of Governors approved changes to the league's lottery system that will be implemented by the 2019 Draft.
The league continues to look for ways to de-incentivize tanking while also trying to maintain parity in the league. The league's worst teams should have the best chances to land the best players coming into the league, though there should be some method in place to dissuade clear-cut tanking at the end of the season, which is not good for the business of the NBA.
Under the new format, the team with the league's worst record will be guaranteed no worse than the fifth overall pick. This is a change from recent years, where the team with the league's worst record would pick no lower than 4th.
The biggest change? The team with the league's worst record will no longer have the best odds to pick first. Instead, the league's THREE worst teams (by record) will all have a 14% chance of winning the draft lottery and picking first.
The lottery will be conducted to determine the order of the first four picks. If the team with the worst record doesn't have any of those four picks, they will automatically be slotted into the fifth spot.
After that, the remaining draft spots will be determined by ranking teams in reverse order of their regular season record.
Let's take a look at the odds to land the first overall pick according to this new system:
Team 1 - 14%
Team 2 - 14%
Team 3 - 14%
Team 4 - 12.5%
Team 5 - 10.5%
Team 6 - 9.0%
Team 7 - 7.5%
Team 8 - 6.0%
Team 9 - 4.5%
Team 10 - 3.0%
Team 11 - 2.0%
Team 12 - 1.5%
Team 13 - 1.0%
Team 14 - 0.5%
All 14 of the teams that miss the playoffs are eligible to select first in the draft.
After the first 14 spots are set, the remaining 16 spots will be determined by reverse order of regular season record.
-
The NBA and NHL both have draft lotteries where the team's record will determine their odds to pick first. The NFL ranks draft order based strictly on regular season record (a winless team will always pick first, provided there are no other winless teams that year), while the MLB has a more complicated draft system that includes a "competitive balance lottery" that gives extra picks to teams in smaller markets or with smaller revenue pools.
-
Picking first overall in the draft can completely change a team's fortunes. While there are certainly some busts (Anthony Bennett, anybody), Lebron James, Shaquille O'Neal, Tim Duncan, Kyrie Irving, Anthony Davis, Karl-Anthony Towns and Ben Simmons are just a few of the players that have been taken with the first overall pick.