Top 20 Most Valuable Footballers in the World
Published on April 17th, 2018
Written By:
Ariel Noel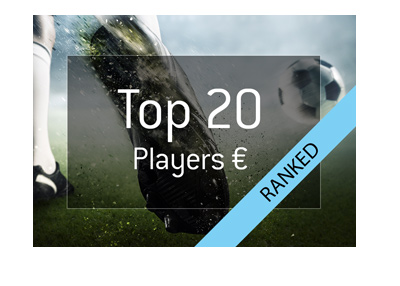 There are less than two months left until football's biggest stars take center stage at the most televised sporting event on earth, the FIFA World Cup.
Here we take a look at the top 20 players with highest market values in the sport, all of which will be competing in Russia this summer.
1. Neymar - €180m
2. Lionel Messi - €180m
3. Kylian Mbappe - €120m
4. Harry Kane - €120m
5. Cristiano Ronaldo - €120m
6. Kevin De Bruyne - €110m
7. Paulo Dybala - €110m
8. Antoine Griezmann - €100m
9. Philippe Coutinho - €100m
10. Eden Hazard - €100m
11. Paul Pogba - €90m
12. Robert Lewandowski - €90m
13. Romelu Lukaku - €85m
14. Luis Suarez - €85m
15. Ousmane Dembele - €80m
16. Dele Alli - €80m
17. Mohamed Salah - €80m
18. Raheem Sterling - €80m
19. Sergio Busquets - €80m
20. Toni Kross - €80m
--
The numbers above are player market values, estimated by Transfermarkt. The factors considered in the calculation range from age and form to data analysis of recent performances. The real figure a club ends up paying for a player ultimately comes down to the market forces of supply and demand.
Lionel Messi and Junior Neymar top the list of most valuable footballers, and by a stretch. Cristiano Ronaldo, mostly due to his age (33), has slid down the list and now shares third spot with the young French winger Kylian Mbappe and England's prolific goal scorer Harry Kane. The peak age for a footballer is generally considered to be 25. The youngest two players on this list are Mbappe (19) and Alli (22).
It is interesting to note that all players among the top 20 are either forwards or midfielders. Five of them play for Barcelona FC and four are of French nationality.
Are there any surprises on this list? Anyone you think that should be included but isn't?