Two Games In History Produced 36 Red Cards
Published on March 7th, 2021 1:06 pm EST
Written By:
Dave Manuel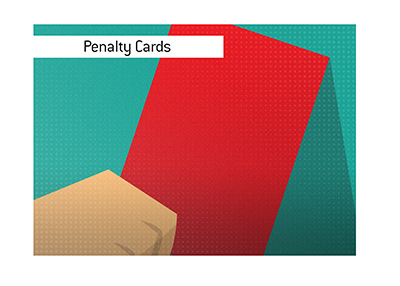 There have been some notorious football matches over the years that produced mountains of red cards.
A match between Wigan Athletic and the Bristol Rovers in 1997, for instance, produced 5 red cards.
A 2006 World Cup match between Portugal and the Netherlands produced 16 yellow cards and 4 red cards. This continues to hold the record for most ever red cards in a World Cup match.
A 2003 Catalan Derby match between Barcelona and Espanyol produced a total of 7 yellow cards and 6 red cards.
-
While all of these games produced an excessive amount of red cards, none are even close to holding the record for most red cards issued in a single match.
Two matches hold the record for most ever red cards issued in a single match.
The total?
36 red cards.
The first match was a 2011 contest between Claypole and Victoriano Arenas in a fifth tier Argentine football match.
The game turned chaotic, with players attempting to intentionally injure others.
Soon a mass brawl erupted, and the referee gave red cards to every single player that was involved in the match.
In addition, coaches and substitutes were dismissed from the game as well.
Here are some highlights from the contest:
-
The second game with a total of 36 red cards occurred between Teniente Farina and Libertad in 2012. These were the two youth teams of Teniente Farina and Libertad, who both play in Paraguay.
Again, a brawl broke out between the two sides, which resulted in a flood of red cards.
Things got so bad, in fact, that the referees elected to flee the scene, which drew criticism from both sides.
Here are highlights from that match: