Records Vary Wildly Depending on Competition Level
Published on December 12th, 2020 11:05 am EST
Written By:
Dave Manuel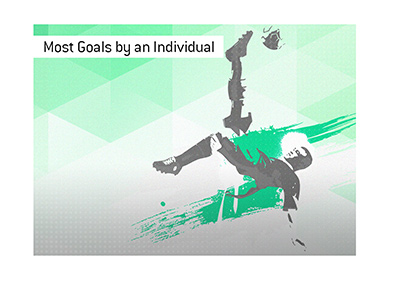 This is a common question that is asked online quite a bit:
What is the greatest number of goals scored in a game by an individual player?
The result varies wildly depending on who you ask. Are you just talking about UEFA club competition matches? Are you including domestic results? Are you including international results? Are you including all divisions?
Let's break this down by competition level, as there is a distinct difference between a UEFA club match and a third division match in a smaller country.
UEFA club matches
The record for most goals in a UEFA club competition in a single game is
6
, and that is held by four different people:
Mascarenhas, November 13th, 1963
Lothar Emmerich, October 10th, 1965
Kiril Milanov, September 16th, 1976
Eldar Hadzimehmedovic, August 28th, 2003
A number of players, including Lionel Messi, have scored five goals.
Domestic matches
The most goals ever in a domestic football match is
14
, and this record is co-held by:
Malika-e-Noor, September 2011
Hacene Lalmas, October 28th, 1962
England Domestic
The record for most ever goals in an English domestic football match is
10
, and this record belongs to Joe Payne, who scored 10 goals for Luton Town in a April 13th, 1936 match against the Bristol Rovers.
English Premier League
Five players - Andy Cole, Alan Shearer, Jermain Defoe, Dimitar Berbatov and Sergio Aguero - have found the net five times in a single English Premier League match.
International
During qualification for the 2002 World Cup, Australia matched up against American Samoa.
The result? Australia won 31-0, and Archie Thompson found the net 13 times, which still stands as the record for most goals scored in a single international competition.
Here are highlights from that match: