Major League Soccer Revenues are Growing
Published on August 21st, 2018 - 8:55am EST
Written By:
Ariel Noel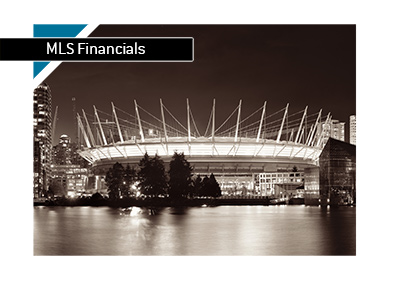 The North American Major League Soccer is growing with each new year. The days of deficits and losses are long gone and the average annual team revenues these days are in the area of $32m and rising quickly.
The MLS is currently the 11th ranked league in the world when it comes to average club revenues, but within the next few years there is a legitimate possibility that it will climb the ranking table significantly.
The current average club revenues rankings for year end 2017 are:
1. England - EPL - $331m
2. Germany - Bundesliga - $194m
3. Spain - La Liga - $179m
4. Italy - Serie A - $130m
5. France - Ligue 1 - 103m
6. Brazil - Serie A - $73m
7. China - Super League - $69m
8. Russia - Premier League - $55m
9. Turkey - Super Lig - $51m
10. Japan - J League - $33m
11. USA and Canada - MLS - $32m
12. The Netherlands - Eredivisie - $31m
12. Mexico - Liga MX - $31m
--
The European big five leagues have a firm grip on the top of the revenue table and the Major League Soccer is probably not going to endanger them any time soon. But everyone else, watch out.
The MLS expansion fees, paid by teams joining the league and shared among the participating clubs, are not part of this calculation. Currently the league has 23 teams and the plan is for it to expand to 28 teams over the next five years. This translates to $800m in expansion fees or in excess of $6m per team for each year.
The MLS is already the number six league when it comes to match attendance and jersey sponsorship deals. The league is about to receive additional funds from the renewal of the kit deal with Adidas, which is projected to rise from $25m / year to $117 / year, which would be a $4m per club per year increase.
The most significant rise in revenues will most certainly come from the renewal of the MLS broadcasting deal. The current agreement, worth $90m per year, is set to expire in 2022 and the estimates are that this figure will be a lot higher next time around. The current broadcasting deal, for example, is five times bigger than the previous one was.
The MLS, at the moment, is the hottest league in world football when it comes to investments. The attendance and general interest are growing and this will likely continue leading up to the 2026 World Cup, which is to be held in the United States, Mexico and Canada.
It sure feels as it is just a matter of time when star players in their prime playing years decide to join the Major League Soccer, as opposed to arriving in the twilight of their careers for one last paycheck as things stand the moment.