Man Utd Will Look To Continue Their Momentum into Round of 16 Clash With Sevilla
Published on February 20th, 2018 10:43 am EST
Written By:
Dave Manuel
Click Here To Bet on Man Utd vs Sevilla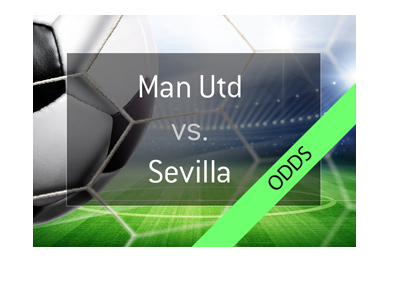 Manchester United, thanks to a great number of changes over the past couple of years, is finally starting to look like the storied club that is one of the world's most revered once again.
Man Utd is putting together a very respectable campaign this season - if not for the unbelievable play of Manchester City, Man Utd would likely be contending for the EPL title. Having said that, their second place position in the table is still very respectable and has got the club's fans excited once again.
Man Utd could give their fans even more to get excited about with a strong performance against Sevilla in the Round of 16 in Champions League this year.
Sevilla, on the other hand, is currently sitting in 5th place in La Liga with a record of 12-3-9. This is likely not the type of season that they envisioned, though they could certainly salvage their year with a surprise victory over Man Utd in the Round of 16.
Here are the odds for both the entire match and Leg 1, courtesy of Bet365:
Source: Bet365
Time Stamp:
February 20th, 2018 10:37 am EST
Odds Subject to Change co
To Qualify
Man Utd, 4/11
Sevilla, 11/5
Winner of Leg 1
Man Utd, 6/4
Sevilla, 11/5
Draw, 9/4
Correct Score of Game 1
Draw 1-1, 5/1
Man Utd 1-0, 13/2
Sevilla 1-0, 8/1
-
Manchester United almost certainly has the talent advantage in this contest, and they should move through to the quarter-finals of the Champions League. Sevilla, however, will look to have something to say about that.
Who do you think will take it?