Netflix To Make Documentary of Figo's Move to Rival
Published on August 18th, 2022 4:20 pm EST
Written By:
Dave Manuel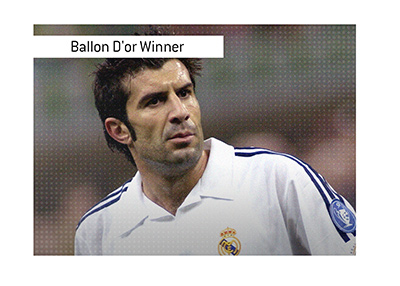 On July 25th, 2000, one of the most shocking moves in the history of football was completed, as Luis Figo switched from Barcelona to Real Madrid.
In the history of sports, there have been player defections that have caused fans to howl in outrage and proclaim that the player is a traitor.
Lebron James and his move to Miami comes to mind.
The defection of Figo to Real Madrid, however, brought about likely the biggest wave of emotions that the sporting world has ever seen.
There has really never been anything quite like it.
In fact, Netflix is soon releasing a documentary about the move.
-
In 2000, Luis Figo was considered to be one of the top players in the world.
In fact, he would win the Ballon D'or in 2000.
Barcelona was enjoying a great deal of success with Figo on their club, as they won the 1996-97 UEFA Cup Winners' Cup, as well as multiple league titles.
Figo was a leader on a team that included the likes of Ronaldo, Rivaldo and Patrick Kluivert.
Barcelona fans were extremely proud of their club, and Figo was practically worshipped in the city.
Then, in a flash, everything changed.
-
In July of 2000, Real Madrid announced that Figo would be moving to their club.
At the time, the move was the costliest in the history of football, as Real Madrid had to pay £37.2 million to extract Figo from Barcelona.
This wasn't just any team that Figo was going to - this was Real Madrid, the hated rivals of Barcelona and their fans.
Fans were outraged and screamed that they had been betrayed, and that Figo was a traitor.
-
On October 21st, 2000, Luis Figo returned to Camp Nou for the first time, and the scene was unbelievable.
All 98,000 fans in attendance taunted and mocked Figo thorough the game, and chants of "traitor" and "scum" were regularly heard throughout the game.
Figo was bombarded with projectiles from the stands, as cigarette lighters, fruit and even cell phones were thrown at him.
In fact, things were so bad that Figo didn't take any corner kicks.
Barcelona would win the game 2-0.
-
Barcelona fans would not let up.
In his second game at Camp Nou, Figo would be pelted with objects again, including a pig's head that was tossed from the crowd.
Figo decided to take corner kicks in this game, and that was a bad idea, as the game had to be halted multiple times to clear the field.
It didn't help that Real Madrid had enjoyed a great deal of success since Figo had joined the club - they won the 2001 La Liga title, and followed this up with a Champions League title the next season.
-
Figo would play for Real Madrid for five seasons before finishing his career in Italy.
Fans of Barcelona, however, still do not forgive Figo for leaving.